Andrew Ayabam: Revenue Management And The Revolutionary In The Saddle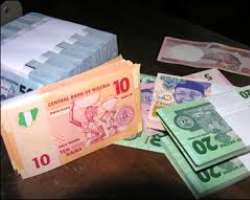 Men of substance often times remain obscure until they are scratched. This is indeed true of Andrew Ayabam, financial management expert, Banker per excellence. Until now he was almost unknown within the Nigerian Public spectacle. But today, a proof and worth of his expertise and professional mettle makes him the celebrated bride in then finance sector and revenue generating Agencies in the country.
Today the Federal Government of Nigeria finds him worthy of elevation to serve in a rather challenging and lofty capacity as a Direction in the Federal Inland Revenue services (FIRS) covering Benue, Niger, and Kaduna states in the management of its revenue generation and remittance drive. This appointment to pundits does not appear surprising as many owe it largely to his tract records of service over the years and certainly his near untainted career so for in the course of his career in both public and private sectors.
Before now Andrew Ayabam had impressed both his former and present employers with a brilliant career and excellent record in the banking sector where he raised though the ranks to the top echelon of its management. He later became a Regional Manager of FCMB. He was appointed the chairman of BIRS in 2010 and practically proved that he was equal and above the challenge of revenue generation, management and remittance in Benue State. He left the services of Benue state Government with prints too difficult for any after him to fill, not to talk of surpass.
The present administration of President Muhammad Buhari having realized the centrality and critical demand for revenue generation and management in complementing key policy drive of the government in the face of acute dwindling of crude oil fortunes may have looked thoroughly at the best hands necessary to achieve intended goals and targets. The appointment of Mr Andrew Ayabam today no doubt indicates a pointer that round pegs must be put in round holes.
The need for government to ensure it meets up with increasing demands of its citizens for better infrastructure and welfare conditions which must be fore mostly anchored on a well structured and transparent management of its revenue generation mechanisms appear apt in the circumstance. Thus the need to enthrone merits system in its selection process may have necessitated the recent appointment of Andrew Ayabam at this level. This elevation is indeed well thought out, quite merited and deserving at a time the Nigerian state is completely enmeshed in serious economic dilemma.
Ayabam's journey to revolutionary revenue generation and remittance in Benue state which later became a model for several states was first and foremost anchored on transparency, professionalism, sheer dexterity, determination and selfless mandate to render lasting service to the government and people of the State. He took over revenue generating board in Benue State that had its structures and operating systems virtually vandalized and almost rendered to pulp.
The poor state of its personnel and managerial conduct were either deeply corrupt or endemically inept in its operation and procedures. IGR within the state had drastically fallen to as low as N2 million monthly which in any case ended up for private use.
But Ayabam came saw and eventually conquered. He practically surpassed the expectation of his employer within the span of few months as he spurred the IGR of the state to over N1 Billion. Armed with the needed IGR law in Benue state as Amended by the Benue State House of Assembly, he unveiled the necessary professional tact and with the desired tools in his Kitty to bring about transformation in the revenue generation regime.
With a rather profoundly unique and proactive approach to work, he ensured better efficiency and transparency in the system. This display of professional prowess was remarkable as no segment of the Benue community suffered untold hardship and loss even in their business engagements. Social and economic condition across the state became rather virile, robust and prosperous while he lasted at the helm.
The BIRS under Ayabam became successfully rejuvenated and overwhelmingly result oriented. The Agency created enormous employment opportunities for a very vital segment of the society - the unemployed graduates within the Benue environs and beyond. Graduates from various disciplines who were hitherto harassed across the country in the course of job search and left to their unfortunate state were later gainfully absorbed by the BIRS under Ayabam's hold. Over 2000 employment slots were opened. 1600 of these were graduates who would enjoy better compensatory and motivational packages as employees of BIRS.
These employees went about the businesses of the organization with dignity thus given out intended results and better delivery. The BIRS had in place better working conditions with ICT stocked office to compliment its reliability greater accuracy and results.
Andrew Ayabam no doubt had utilized his best chances for the good of mankind. He had ensured even as a Banker that the people received gainful employment and social empowerment. His CW Ayabam Foundation had over the years intensified its mandate on youth empowerment schemes to the admiration of many.
When in 2014, Ayabam declared his intention to run as Senator-Representing Benue North-East Senatorial District, his declaration received wide acceptance, cheers and a roared support from teeming Benue populace raging from the graduates who were direct beneficiaries of his employment drive, the artisans, market men and women, farmers, the aged and retirees who felt the impact of his vast employment agenda for Benue graduates who fell among virtually every house hold.
Ayabam sojourn into politics was anchored principally on principles and his deep conviction to serve a generation who daily yearned and craved for genuine change and turn around of their socio- economic status. Even though many a typical Nigerian politician had failed to remit on promises, Ayabam was seen by many as a last resort for the people to bet on and have him re-awaken their unfortunate status. After all he had been tested times without number and proven to be an effective voice for the oppressed. He stands on the popular of history to reckon with the people and their near battered conditions.
Though not deeply enmeshed in the wobble bobble of Nigeria politics with its accompanying ills like thuggery, intimidation, chauvinism, pull- him down syndrome, betrayal and sometimes mindless killings, he however chose to fly his aspirations to serve humanity on the ticket of the APC – A party he believed was rather ideologically driven on its mantra of change and had membership drawn from people of conscience who selflessly paid the price to retrieve the nation and its people from the shackles of underdevelopment insecurity, corruption, ignorance, poverty and neglect.
Andrew Ayabam' recent elevation as a Director, FIRS may not appear surprising as he had proven in the past that even a state like possesses potentials that can to a large extent effectively become self sustained through efficient and prudent management internally generated resources for overall growth of the state.
Indeed a pointer that he is better placed mentally and physically to live up to his new capacity which fortunately falls in a better placed environment like FIRS. As they say, gold fish has us hiding placed, Mr. Ayabam's recent call to serve his country Nigeria at a more challenging and delicate point of the nation's economy is well deserved. Only time shall tell the worth of this rare enigma. Indeed only a little of such a time would be required for his worth to play out almost effortlessly but meaningfully glaring.
Akosu Emmanuel Lubem
Freelance Journalist, Public Affairs Commentator
MMC, Off Abidjan Street by Tamara Guest House
Wuse Zone 3, Abuja. 07038578549
Disclaimer:

"The views/contents expressed in this article are the sole responsibility of the author(s) and do not necessarily reflect those of The Nigerian Voice. The Nigerian Voice will not be responsible or liable for any inaccurate or incorrect statements contained in this article."