Delta Finance, Economic Planning Commissioners Battle For Supremacy…As Ibori Allegedly Send Warning Signal To Okowa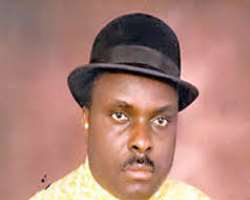 There is a perceived brawl between the Commissioner of Finance, Olorogun David Edevbie and his counterpart in the Ministry of Economic Planning, Dr. Kingsley Emu over who should be the authentic commissioner to control, be in charge, dispense and reports financial transactions to Senator (Dr) Ifeanyi Okowa, the governor of Delta State.
When the embattled governor of the state, Chief James Onanefe Ibori who is presently serving jail terms in London prison for financial crimes picked Okowa as the next governor of the state after his cousin, Dr. Emmanuel Uduaghan, little did he (Ibori) know that there would be a power tussle between their stooges that would cause a crack on the wall.
It was alleged that Emu has hijacked the functions of Edevbie and has continued to extend his footprint in the Finance Ministry and Edevbie is not very pleased, leading to his threat to bow out if the situation continues. While Edevbie was the Finance Commissioner during the era of Ibori, Emu was the sacked Commerce and Industry Commissioner during the regime of Uduaghan.
Our investigation revealed that the Economic Planning Commissioner virtually oversees all agencies of government that were under the Ministry of Finance and disburses money to them while his counterpart in Finance is seen to be doing the paper work only making him and his ministry dormant, hence the alleged threat to resign.
That notwithstanding, whether the battle for supremacy perceived going on between the two Commissioners in the present administration is anything to go by, the big players like Olorogun Edevbie and Dr. Emu are not at liberty to scuttle for supremacy in a public office, even though both Emu has not responded to the alleged resignation threat posed by the Finance Commissioner because of Emu's alleged intruding, thus their body languages has attracted media attention.
Impeccable sources said staff of the Ministry of Finance are no longer involved in the paper work resulting into indolence, while it was alleged that the flex of muscles between the two Commissioners has destabilized the ministry as government has shifted ground to his stooge ministry, Economic Planning which now carries out financial transaction on behalf of the government.
It was gathered that Mr. Edevbie, who is amongst dozens of Ibori's appointees in Okowa's government, had threatened to resign following his frustrations with the development but the former governor had urged him to hang on.
The once powerful and influential office of the Commissioner of Finance has been stripped of its powers. According to our investigation, Olorogun Edevbie, has been side-lined from the approval process for payments. The Governor, his kinsmen: Commissioner for Economic Planning, Dr. Emu and Accountant General, Mr. Cyril Agbele are now in charge of approvals and payments.
The reading of the press release prepared by Edevbie to journalists by the Information Commissioner has continued to get mixed feelings as it has not happen before.
But reacting to questions from journalists whether it was true if Edevbie had truly resigned, Ukah said there is a cordial working relationship with the two commissioners and that the Finance Commissioner would have read his statement but he has to stay with governor Okowa for a crucial meeting, "Edevbie has not resigned. In fact, we all robbed minds together just now before coming to brief you on EXCO resolution. He is with the governor".
It was further gathered that Okowa has deliberately reduced all Ibori's men in his government to mere figureheads, as they are not finding it easy surviving financially in their respective officers.
Though in incarceration, the former governor, James Ibori, is still powerful in Delta State as he continues to influence decisions in the state. But it seems that the present governor of the state, Dr. Okowa, would not give in to being a push-around as reports making the round suggest that the Governor has been trying to sieve out all Ibori's elements from his government even though it was believed that James Ibori is the political god-father of Okowa.
Unconfirmed sources said, the embattled governor has allegedly send warning signals to Okowa for breaking a gentleman agreement entered in 2007 when Okowa was entreated to allow Uduaghan to come in as governor before him.