Daddy Freeze Canvasses for House Rent for UNILAG Best Graduating Student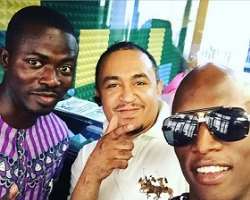 Controversial Nigerian On-air-personality, Daddy Freeze of Cool FM, is not ready to take any form of chill pill on the way some top government officials and private companies have chosen to ignore good brains in the country and allow the Western countries to steal from them.
This was coming base on the facts that newly graduated student, Ayodele Daniel Dada, who is the 1st Nigerian in 54years to get a perfect CGPA, is not being celebrated the way the country celebrates musicians by giving them various awards, cars and endorsement deals.
Freeze stated that the likes of Senator Ben Bruce, have been clamouring for the use of made in Nigeria product and it is time to start investing in the likes of Ayodele Daniel, who is about to be evicted from his home because he cannot afford his rent and a decent living.
According to him, "Ayodele Daniel Dada is the 1st Nigerian in 54years to get a perfect CGPA. My question is, how do we encourage him, and most importantly channel the minds of the forthcoming generation into the realization that our intellectual ability is the driving force behind innovation, which in itself is our greatest asset? How do we dissuade the next generation from the teachings of many pastors, who 'Barnum' them, by selling the idea of a ready made financial miracle, for 10% of their current income? How do we encourage them to stay back and build Nigeria instead of running overseas, further depleting our 'intellectual economy'? Despite all Ayodele's potential, he is about to be evicted from his home Sujimoto81 need you!
"Dear Senator Bruce, you often speak about Made In Nigeria. Let us develop him so he won't be stolen from us by the intellectual poachers of the western world. Innoson, please give this man a car. If you can win a car at the headies for singing skibirobisko, I believe he should be awarded one too MTN, GLO, ETISALAT and AIRTEL you give Multi Million Naira endorsements to Musicians whose songs quite often possess Questionable Lyrics and Encourage a 'Poverty Mindset' please endorse this gentleman. Governor Fayose, leave APC and Buhari for a few minutes and attend to Ayodele who is from your state (Ekiti). Please put the might of your office behind him and he would make your state proud!" He wrote.