4 Hospitals Reject Father of Boy Who Made Ciara's Portrait, Alesh as He Passes on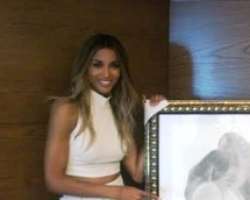 It is rather a sad week for the young chap, Alesh Akeem, who made portrait for American singer, Ciara, as he lost his father on March 1st, 2016.
Alesh, who had managed to see himself through his ND at the Nigerian Institute of Journalism, had to put his HND studies on hold for the main time due to lack of school fees as he decided to pursue his dream in drawing.
According to reports by Newseveryhour.com, Alesh father, Mr. Ismail Oriyomi Aleshinloye, was confirmed dead in the early hours of Tuesday 1st of March 2016, after experiencing serious difficulties in breathing.
Alesh who has been mourning the sudden demise of his father, recently opened up on how it all happened; "As of 1:30am on Tuesday, I was reading comments about my presentation to Ciara on Nairaland, when mum rushed into my room asking me to come see my dad, on seeing him, I saw the worst expression on his face with little tears struggling for breath. He managed to tell us he couldn't breathe, without wasting time, we rushed him out to the hospital.
"Four hospitals didn't attend to us until we took him to the 5th and they confirmed he was dead. I'm so devastated right now. This man has been supporting me with the little he had. I had to pause going for my HND due to financial challenges to take this art dream serious hoping and praying that I can make some decent living some day and make him proud, but where is he now. My Pillar is gone. Why?"
The young artist further explained that the money he used in transporting himself to the venue where Ciara was performing was the last money his father gave to him just to get his art work delivered to her.
"I Wish my dad lived to see his son trends all over the globe, but unfortunately, the man who gave me his last penny for transportation to deliver the artwork is gone," he said.