Delta Finance, Economic Planning Commissioners Battle For Supremacy
…As Ibori Allegedly Sends Warning Signal To Okowa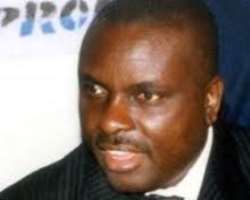 There is a perceived brawl between the Commissioner of Finance, Olorogun David Edevbie and his counterpart in the Ministry of Economic Planning, Dr. Kingsley Emu over who should be the authentic commissioner to control, be in charge, dispense and reports financial transactions to Senator (Dr) Ifeanyi Okowa, the governor of Delta State.
When the embattled governor of the state, Chief James Onanefe Ibori who is presently serving jail terms in London prison for financial crimes picked Okowa as the next governor of the state after his cousin, Dr. Emmanuel Uduaghan, little did he (Ibori) know that there would be a power tussle between their stooges that would cause a crack on the wall.
It was alleged that Emu has hijacked the functions of Edevbie and has continued to extend his footprint in the Finance Ministry and Edevbie is not very pleased, leading to his threat to bow out if the situation continues. While Edevbie was the Finance Commissioner during the era of Ibori, Emu was the sacked Commerce and Industry Commissioner during the regime of Uduaghan.
Our investigation revealed that the Economic Planning Commissioner virtually oversees all agencies of government that were under the Ministry of Finance and disburses money to them while his counterpart in Finance is seen to be doing the paper work only making him and his ministry dormant, hence the alleged threat to resign.
That notwithstanding, whether the battle for supremacy perceived going on between the two Commissioners in the present administration is anything to go by, the big players like Olorogun Edevbie and Dr. Emu are not at liberty to scuttle for supremacy in a public office, even though both Emu has not responded to the alleged resignation threat posed by the Finance Commissioner because of Emu's alleged intruding, thus their body languages has attracted media attention.
Impeccable sources said staff of the Ministry of Finance are no longer involved in the paper work resulting into indolence, while it was alleged that the flex of muscles between the two Commissioners has destabilized the ministry as government has shifted ground to his stooge ministry, Economic Planning which now carries out financial transaction on behalf of the government.
It was gathered that Mr. Edevbie, who is amongst dozens of Ibori's appointees in Okowa's government, had threatened to resign following his frustrations with the development but the former governor had urged him to hang on.
The once powerful and influential office of the Commissioner of Finance has been stripped of its powers. According to our investigation, Olorogun Edevbie, has been side-lined from the approval process for payments. The Governor, his kinsmen: Commissioner for Economic Planning, Dr. Emu and Accountant General, Mr. Cyril Agbele are now in charge of approvals and payments.
The reading of the press release prepared by Edevbie to journalists by the Information Commissioner has continued to get mixed feelings as it has not happen before.
But reacting to questions from journalists whether it was true if Edevbie had truly resigned, Ukah said there is a cordial working relationship with the two commissioners and that the Finance Commissioner would have read his statement but he has to stay with governor Okowa for a crucial meeting, "Edevbie has not resigned. In fact, we all robbed minds together just now before coming to brief you on EXCO resolution. He is with the governor".
It was further gathered that Okowa has deliberately reduced all Ibori's men in his government to mere figureheads, as they are not finding it easy surviving financially in their respective officers.
Though in incarceration, the former governor, James Ibori, is still powerful in Delta State as he continues to influence decisions in the state. But it seems that the present governor of the state, Dr. Okowa, would not give in to being a push-around as reports making the round suggest that the Governor has been trying to sieve out all Ibori's elements from his government even though it was believed that James Ibori is the political god-father of Okowa.
Unconfirmed sources said, the embattled governor has allegedly send warning signals to Okowa for breaking a gentleman agreement entered in 2007 when Okowa was entreated to allow Uduaghan to come in as governor before him.
Delta Police Command Arrests 19 Criminal Suspects
By Kenneth Orusi, Asaba
Delta State Police Command has recorded a major feat in the first quarter of 2016 in its bid to wipe out miscreants and criminal elements from the state, as the Command stated that the state was no longer a safe haven for bandits.
Speaking with journalists in his office Thursday, the Commissioner of Police (CP) Mr. Usman Baba Alkali said operatives of Special Anti-Kidnapping Squad (SAKS) in the state capital while on routine patrol intercepted a Toyota Corolla car with Registration Number 425DB, driven by one Oghenenwaire Benson in Udu, Warri axis, "the said Oghenewaire Benson snatched the vehicle from its owner, one Mrs. Mary-Ann Ugberase at Effurun".
CP Alkali also said, "The DPO Oghara Division received information that suspected hoodlums who abducted one Prince Onovirighose on 23 of January this year and later killed the victim after collecting N1 million ransom, the DPO mobilized his detectives and arrested one Oyibo Shell, Efe Sosolobia and Ambrose Omoriyi", stating that two other suspects who are now at large were also mentioned.
In another development, kidnap syndicates blocked one Mrs. Sarah Usele from Usiefrun community in Ughelli South local government area and abducted her son Iyoma Usele while they were travelling with their kia car along Usiefrun-Orhuwhorun, "patrol team and vigilante men mobilized and gave the hoodlums a hot chase and arrested one of them identified as Efe Reuben, 31 years while others escaped".
Mr. Alkali revealed that SAKS in Asaba investigating the kidnap case of Senator Emmanuel Aguariavwodo's mother has arrested one Emmanuel Okobi, at Oruwue junction, Ovwian, Udu while five other are at large.
In same vain, operatives from Oghara Division on routine patrol along Otefe Oghara, intercepted an unregistered tricycle with four occupants: Mamus Oduophori, 20, TejiriSamuel 21, Ovie Godday 23 and Lucky Salami all from Ughelli, "on questioning, they were unable to give satisfactory account of themselves hence their arrest. The suspects during interrogation confessed being members of Vikings confraternity, they later took the police to their hideout in Ughelli where a locally made cut to size pistol and charm were recovered from them", the CP said.
The police at Obiariku in Amai, has also arrested one Effiong Stephen Clement who belong to an armed robbery gang at Igwumta, Rivers State while the other one Vincent escaped into the bush while one Ochuko Owene and Super Okoro were also apprehended after having a gun duel with military officers from 3 Battalion in Effurun market, Alaka, Uvwie.
Also, Alkali hinted that the police has arrested two suspected cultist at Amukpe roundabout in possession of a locally made pistol and five life cartridges saying, "Investigation has revealed that the suspects are senior members of Aiye confraternity and were on their way to join their cohorts for a planned attack on Otefe Polytechnic", stressing that the suspects, Henry Ogheneyerhovwo Matthew has been arrested before in 2012 and was charged to court for armed robbery while Ezikiel Favour Oghenevwede was nabbed in November 2015 and charged to court for store breaking and stealing.
According to the Commissioner of Police, one Emmanuel Unuowhorho of Itefa Street, Abraka while on his way to Oleh was robbed at gun point by one Edafe Mowe and two others who intercepted him with a motorbike and he was dispossessed of the sum of N15, 000, necklace, belt First Bank ATM Card and two handsets, "on receipt of the information, detectives from Abraka Division swung into action and arrested the culprit".
Items recovered from the suspects include five locally made guns, 13 cartridges and two vehicles, of the 19 suspects 10 are armed robbers, five kidnappers and four cultists.
Some of them who spoke with our correspondent ascribed their involvement to the Devil.