Gov Ambode shuts Mile 12 market, slams curfew after ethnic clashes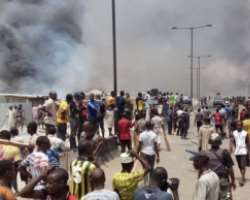 Five persons were on Thursday reportedly killed and several others injured during an ethnic crisis which broke at Mile 12 market, along Ikorodu expressway , Lagos, between Hausa and Yoruba traders.
The incident led to the razing of several shops, two religious houses , including vehicles by the warring traders , with goods worth several millions of naira destroyed. However the Lagos State Commissioner of Police, Fatai Owoseni, said no life was lost .
Following the violent clash which lasted for hours, the state governor was forced to shut down the market placing restriction on movements in five streets where the fights spread to.
Trouble started when a commercial motorcyclist of northern extraction knocked a female trader down and attempted to flee. But he was apprehended and compelled to take the injured trader to the hospital.
The uproar, created a scene during which other motorcyclists from same region besieged the scene and insisted that the motorcyclists union took responsibility of the injured woman's treatment, since the rider used to pay his daily dues to it.
This led to a verbal confrontation between motorcyclists and members of the Union, which degenerated into a fight during which members of the union who were Yorubas were reportedly over powered.
An eye witness who gave his name as Chinedu said; " The union members , some of whom are also traders regrouped and stormed the market chanting war songs . They started attacking the abokis okada (Hausa commercial motorcyclists) , who were at the section where they sold tomatoes, beans and pepper. In the process, several shops were burnt. ''Three Hausa traders who could not escape were said to have been manhandled.
In retaliation, they started calling their people from Ketu and other neighbouring markets. ''This place was a theater of war. Some customers were even injured ,while innocent traders had their goods destroyed in the process".
Three corpses were said to have been deposited at the morgue while two others littered both sides of the road. One of the corpses was said to be that of a trader stabbed to death while escaping.
With the quick intervention efforts of the military, mobile and conventional policemen including those attached to the Rapid Response Squad, RRS, brought the situation under control. The Lagos State Commissioner of Police, Fatai Owoseni; RRS Commander, ACP Olatunji Disu and other senior police officers were at the scene to stem the tide.
Consequently, Governor Akinwunmi Ambode of Lagos State ordered the temporary closure of the market , as well as the restriction of movements on Oniyanri, Maidan, Agiliti 1 and Agiliti 2 streets.
In his addressing to government house correspondents at the Lagos House, Alausa, Governor Ambode explained that the decision to shut the market and restrict movements on the streets was to aid security agencies restore calm in the area.
He said "In order to further restore calm, I have ordered that Mile 12 Market be temporarily closed and urged traders, community leaders and other stakeholders to eschew violence; be calm and law abiding.Furthermore, I have also ordered a temporary restriction of movement in the following streets; Oniyanri Street, Maidan Street, Agiliti 1 and Agiliti 2.
"These types of clashes do occur from time to time in a multi-ethnic city like Lagos and government has responded appropriately.
"The public is hereby assured that we will not shy away from our responsibilities to protect lives and property and we will deal decisively with those criminal elements who fan the embers of ethnic strive".
-Emmanuel Ikechukwu