Okowa Directs Job Creation Office To Device Programmes For Staff Of DSC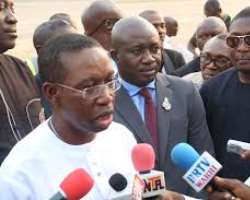 Delta State Governor, Senator Dr Ifeanyi Okowa, has directed the Job Creation Office to create programmes to ameliorate the sufferings of staff of the Delta Steel Company.
The Governor gave the charge when the Parish Priest of St. Michael Catholic Church, Steel Town/Delta Steel Complex. Rev. Fr. Ezekiel Awore gave a gory tale of the sufferings of staff of DSC who have not received salaries for years.
Governor Okowa who disclosed that he was aware of the plights of the DSC workers, observed that it was a Federal Government project and that there were legal issues while AMCON was in position to offset the bills being owed the workers.
"We will need to create a programme through the job creation office to render assistance to some of the families, we don't have the capability to run the company as a state and we are aware that government is divesting interests in running business organizations", he said while calling for cooperation for the company that have taken over the operations of the DSC because of the numerous benefits derivable from having the company operating optimally.
He stated that jobs will be created while the socio-economic life of the people would get a boost when DSC was fully operational.
The Governor who was in the church for a special thanksgiving Mass by the family of Comrade David Ofoeyeno, Chairman, Delta State Chapter of the Nigeria Labour Congress (NLC) and state President of Nigeria Union of Local Government Employees (NULGE) called for prayers for his administration to succeed.
He congratulated Comrade Ofoeyeno for giving thanks to God for His goodness to him, stating, "I am glad that my friend, Comrade Ofoeyeno is celebrating openly today and you people have shown love to him; what we truly need as a state and as a nation is repentance and reconciling with the Almighty God; we need to check what we do; we need to have faith in God; should trust in Him and put our faith in Him; I believe that we should give our lives to God."
Comrade Ofoeyeno in his speech, thanked God for His mercies, for keeping him alive to give the thanksgiving and commended the Governor and other Deltans for standing by him during his travails.
"God in His infinite mercies made it possible for me to stand here to give this thanksgiving; God has been so faithful, so merciful to me," he added.
While Rev. Fr. Awore called for efforts to assist the staff of DSC, Rev. Fr. Lucas Eke in a sermon at the occasion which was also attended by an array of Catholic Priests, called for repentance among Nigerians to enable them make heaven.
"We need to repent in our political life, our socio-economic life, we need religious repentance because, if you fail to repent in Christ, you will perish," he said, adding, "the word of God wants us to repent, most of us are looking at what will benefit us here and now; we should turn from our evil ways and turn to God, we should avoid pleasure that lead to self-destruction."
The Priest commended Governor Okowa for working towards prosperity for all Deltans, emphasizing that it was important for political office holders to only make promises they can keep to boost the waning confidence of the electorates on the political class.
High point of the celebration which also featured thanksgiving was the commissioning of school for special children, Centre for Children with Neurological Disorder (AUTISM) donated by Comrade Ofoeyeno by Governor Okowa.