I Want Peace of Mind in My Life not To Hate Others…Carolyne Danjuma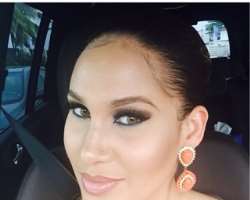 Nollywood actress, Caroline Danjuma, has been trending in the news for some days now and this has been as a result of her recent outing with her husband whom many have rumoured to have fallen in love with another lady.
Over the weekend, the actress shamed her haters by stepping out with her husband and her two boys to the movie premiere of 'Stalker' which she co-produced and many were left wondering what was playing out before them.
The two love birds even went as far as having an after party in a club where she had to tweak for her husband and also got a massage from him. Well, the actress through a meme has explained that she is a queen with or without a man.
She also stated that "Time they say heals all wounds but I believe forgiveness heals better. Let it go but never go back on your words. It is better to live in peace than to drain yourself in hate. Never burn bridges, Focus on what is paramount, peace of mind is priceless, know your worth."