ETEKAMBA UMOREN: Soaring Above Ethnicity And Tribalism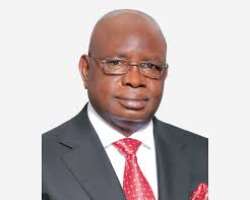 I had earlier brought to note that immediately after the crushing defeat of the Akwa Ibom State APC governorship candidate at the Supreme Court on Wednesday February 3, 2016 confirming and validating the overwhelming votes Akwa Ibomites churned in for Governor Udom Emmanuel on April 11, 2015, these aggrieved, smear campaigners, character defamation goons and blackmailers will divert and turn their ill-crafted attention on other innocent and distinguished citizens of state.
I also made mention that the APC blackmail tool (if really there was any) is seriously in dire need of a turnaround maintenance, citing the basic reason that their paymaster has gone into oblivion, underground and probably may have taken an absence without leave (AWOL). But that is a story for another day.
The Rader Newspaper of Monday February 29-2nd March 2016 on its front page and banner headline wrote, "EXPOSED! THE FACE OF A TRIBALIST IN UDOM'S GOVERNMENT with a continuing story on page 5; it began with a well known eulogy of bottlenecks and red-tapeism of the civil service, issues of transfers and internal structuring of the service in which the proponents of the story are shallow vested with the codes, norms and practices there in. Before we get into the details of several ill-raised issues embedded in the newspaper report, the idea and accusation of Sir Etekamba Umoren, an astute civil servant, one time Permanent Secretary in-charge of Governor's Office during the Senator Akpabio's administration (then Governor) who through distinctive hardwork, inclusive working potentials and humility even as later day Chief of Staff in that uncommon administration, paved the way for him to ascend to the position of SSG in Governor Udom's administration. I challenge Franklyn Isong and his narrow- minded, ethnic-bigotry tendency to tell the world his own meaning of a tribalist.
Who indeed will you describe as being tribalistic? Is it a man whose mother is from the cradle of Ibibio nation - Ikono? Is it a man, whose wife is of Ibibio extraction? Sir Etekamba Umoren's mother is an Ikono woman of royal parentage, and his amiable wife is from Nsit Ubium. The pettiness of his write up is a total exposure of the mischievous intent in mudslinging a man who has over the years guarded and built his profile with great distinction and professionalism, hence his steady rise in his chosen career. I believe with what he has written so far, he lacks little or no knowledge about the man in discourse.
Franklyn as can be clearly seen, did little or no research on his target. All that is manifesting and glaring in this situation is a young man in search of cheap attention and thus imploring this smearing device to curry the goodies of the system. Come to think of it, what special favour can one expect from a system he had so demonized over the years and in the past eight months through spurious media propaganda and attacks?
"Mr. Umoren employed an Annang woman, Mrs. Pauline Obot, who retired from civil service two years ago , as his personal secretary with a strict instruction not to allow any non-Annang civil servant access to him." Where did Franklyn get such facts from? Enquiries from any government appointee or civil servant can easily unveil the motherly disposition of the afore-mentioned woman. Mrs. Obot is just a pearl and a mother. She accords everyone due attention anytime, anyday and does not undermine any visitor to her office. She's not an Annang woman and even if she were, what bearing does that have on her capacity? This writer is a living testimony to Mrs. Obot's warm disposition both to staff and visitors.
"They complained that each time workers under the SSG made attempt to meet with their boss, Mr. Umoren, in order to prevent (sic) their complains and discuss their welfare issues, that his personal secretary would come up with one excuse or the other, such as, "oga is eating," "oga does not want to see anybody today," "oga just came in", "oga says nobody should disturb him and etc, "even when workers of Annang extraction walked in and out of the SSG office and held meeting with him at will." Hmmm, Franklyn first, sometimes I do baffle in trying to comprehend the mechanical approach of your English composition. The quote above from your write-up lacks accuracy and syntax of prepositions, representing a writing style designed for infant chiefs. Sir Etekamba Umoren if at all you know him well works round the clock, the capacity and demand of the SSG's office cannot make him turn such an office to a holiday resort. All this reports are mere street junk feelers. Since assumption of office, Sir Etekamba Umoren has not tampered with any staff appointment nor effect changes in assigned areas of jurisdiction so far. From where then comes this indictment of ethnicity and tribal quest?
"The workers called on the Governor, Mr. Udom Emmanuel, to intervene in their worrisome plights in the SSG's office, inorder, to put a halt to ongoing ethnic nepotism, neo-colonialism and tribal tension created in his government by the SSG", (laughable and kidding). Where and when did you sample the workers views and opinion? Governor Udom Emmanuel is a thorough bred professional of world class standard. When he appointed Sir Etekamba Umoren as SSG, he did so with the deep knowledge, passion and assurance that he will add more value in his administration bearing in mind the vast experience gathered all this years in the state civil service. Gov. Udom has a high level confidence and trust in Etekamba Umoren and wouldn't have resorted to an infant chief whose stock in trade is to sit and fabricate allegations with no found proves.
I can confidently tell you that Sir Etekamba Umoren is aware of the antics and gimmicks you are employing in order to curry his favour. My brother, you don't need to pull such ''stunt '' any longer, time up! let's just be pro-active in all our doings and endeavour in life . Others who toed your kind of line immediately surrendered, congratulated the Governor on his victory at the Supreme Court, and you can as well do same. Your continuous venture into self-fabricated stories, aimed at pulling down people, is fast diminishing its worth around our clime (Da ado se ayem utom awen ndion).
Investigations reveal that the staff composition of the SSG's office cuts across different Local Governments Areas of the State. I was there and can authoritatively say that out of seven office staff I met, none is of Annang extraction and they all work directly, freely and passionately with him. Sir Etekamba Umoren over the years has displayed a hi-tech workers- management relationship, statesmanship and always applied utmost dedication to duty.
Your grievous, evil willed exposition remains the mischievous imagination of an ill-mind. Repent!
Pat Reuben a Public Affairs Analyst, writes in from Awantong –Etinan
Disclaimer:

"The views/contents expressed in this article are the sole responsibility of the author(s) and do not necessarily reflect those of The Nigerian Voice. The Nigerian Voice will not be responsible or liable for any inaccurate or incorrect statements contained in this article."