Etekamba: When Blackmail And Ethnicity Overtake Professionalism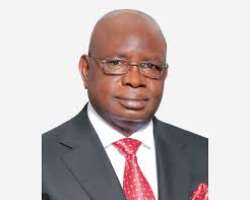 Most residents in Akwa Ibom state on Monday February 29, 2016, woke up to a disturbing headline on the front page of a certain local tabloid Radar, that rubbed tar on the image of the Secretary to the State Government, Sir Etekamba Umoren with the bold headline "Exposed: Face of a Tribalist in Udom's Government"
It wouldn't have been worrisome if this piece of smear was done by any quack on the streets of Uyo, but coming from Franklyn Isong who has been a member of the State Executive Committee of the Nigerian Union of Journalists, and is believed to have had a certain level of exposure to media ethics and professionalism in practice, brings to question the rapid misfortune of moral decadence in our society.
Shortly after the defeat of the defeated candidate of the APC, Mr Umana Umana following the Supreme Court ruling of February 3, 2016, it was generally believed that the era of blackmail, propaganda and smear campaigns against Governor Udom Emmanuel had ended. How wrong could that assumption have been, as it does appear that the APC has only intensified its calumnious campaigns against the responsible citizens, especially those close saddled with major responsibilities in the state.
The latest attack on Sir Etekamba Umoren by Franklyn Isong on his news medium Radar Newspaper, is an eye opener that certain people no matter their status, would not hesitate to bend backwards in pursuit of inordinate desires. This is more so because the author and purveyor of this highly defamatory piece, never showed that he made an attempt to go and investigate his tissues of lie, before rushing to the press. If he did, he would have known that Sir Umoren who was appointed SSG since May last year, has not transferred any staff from the Office of the SSG, neither does he have a problem with any of the staff there especially on ethnic basis.
Virtually all the seven civil servants working directly in the office of the SSG, including his confidential secretary are all of Ibibio extraction, and have never had any such unethical instruction of allowing only annangs to have access to the SSG. If anyone could impress as an ethnic jingoist, it would be Franklyn himself, who has always worked and committed himself to a so called "Ibibio agenda" as reflected by his support for governorship candidates in the state in recent history. In 2007, as a member of the Action Congress, Franklyn openly campaigned and supported James Iniama an Ibibio son, in 2011 when zoning was in support of Ikot Ekpene Senatorial District to complete its turn, Franklyn supported another Ibibio man Senator John Udoedehe, while in 2015, his support went to Mr Umana Umana. If these does not qualify one to be called a tribalist, then there may be a different meaning of tribalism that is yet to be known to others.
Franklyn would have been expected to make his false ranting believable by saying that he went to meet the SSG, only to be refused access because he is not of Annang lineage. But instead he resorted to the fabrications that some ghost workers fed him with the mis-information that only Annangs are paid entitlements, and only Annangs are allowed to visit Sir Umoren. How unfair can a man be to his profession, by electing to tow a line a falsehood and ethnicity which is almost destroying the fabrics of our collective existence as a state. As the administrative secretary of an Ibibio royal fathers' group, Franklyn Isong owes the society a responsibility of promoting the unity of the state by highlighting the historical bonds among the ethnic blocs in the state, rather than setting out to be used by some political turncoats to destroy the state in their allege quest for political settlement.
How about this assertion that the Head of Civil Service erred in posting two new permanent secretaries to the SSG's office because one is Ibibio and the other is Annang? Does Franklyn want us to believe that the Annangs are not fit to serve as permanent secretaries in the SSG's office, and as such the two new perm secs should have been of Ibibio extraction, abi? Astonishingly, Franklyn was in September 2015, one of the guests to the dedication ceremony of an infant little Miss Udemeobong Essien Ndueso, and not only did he see the Secretary to the State Government in attendance at that function, he also heard that the renowned technocrat came slightly late because he had to attend a similar function in Oron earlier that same day. The striking fact about this occasion was that Sir Umoren attended two events hosted on the same day by two private individuals who were not of Annang descent, and where not serving political office holders but ordinary citizens.
Wherever or whoever sponsored these spurious tantrums against the SSG, may have forgotten how Sir Umoren rose from the ranks to the pinnacle of his career, out of hardwork, commitment and ability to identify and share in organizational goals and vision. This explains why he was able to keep pace with the developments by the then Governor, Chief Godswill Akpabio who later appointed him as Chief of Staff. Such short memory would account for the accusation that the SSG has turned his office into an hospitality resort of a sort, where he rests and eats and thereby deny opportunity for non –annangs to meet him. Listen to Franklyn, ""They complained that each time workers under the SSG made attempt to meet with their boss, Mr. Umoren, in order to prevent (sic) their complains and discuss their welfare issues, that his personal secretary would come up with one excuse or the other, such as, "oga is eating," "oga does not want to see anybody today," "oga just came in", "oga says nobody should disturb him and etc, "even when workers of Annang extraction walked in and out of the SSG office and held meeting with him at will."
This is not only a very unprofessional, but it is also baseless. If the intention of this publication was to rattle Sir Umoren, I dare to say that the writer has failed woefully, and if the aim was to earn some gratification from the APC paymasters, then it would be safe to say that it does not add any credit to the author, except that he has gotten attention for the most ignoble reasons.
In concluding, let me state here that Sir Etekamba Umoren is from Essien Udim local government area, his mother is from Ikono local government(the ntippe Ibibio), and in fact, is a daughter of the 1 pioneer Paramount Ruler of the area Late Chief Jacob Udom ekpin, while his wife hails from Ikot Iyire in Nsit Ubium local government area(another Ibibio land). How can a man so firmly rooted in Ibibioland be labeled against his ancestors and inlaws? A tribalist in the context of Franklyn Isong's outburst should be made of sterner stuff.
From the way things are going, a lot more of these APC-sponsored character assassination ploys should be expected on more officials of His Excellency, Governor Udom Emmanuel's administration.
Disclaimer:

"The views/contents expressed in this article are the sole responsibility of the author(s) and do not necessarily reflect those of The Nigerian Voice. The Nigerian Voice will not be responsible or liable for any inaccurate or incorrect statements contained in this article."