Rail Funds fraud: Reps summon former Minister, DSS, EFCC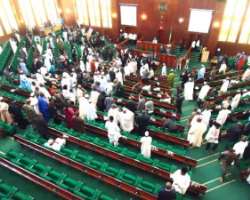 No respite in sight yet to the debacle surrounding fund mismanagement in the rail sector as the House of Representatives adhoc Committee on Railway Contract Scam has invited hosts of personalities involved. Among those invited are the former Minister of Transport, Isa Bio Ibrahim, the Economic and Financial Crimes Commission, EFCC, the Department of State Services, DSS, Office of the Secretary to the Government of the Federation, OSGF and 27 contractors allegedly involved in the misappropriation of N1trillion railway contracts.
Also expected to appear before Hon. Ehiozuwa Johnson Agbonayinma- headed committee on Thursday to explain their various roles in the utilization of funds made available by the Federal Government to revamp the railway sector, is the acting Managing Director of Nigeria Railway Corporation, NRC.
Ibrahim, as the former Minister, took over from Mrs Diezani Alison-Madueke in 2009 and allegedly signed the contract for the procurement of locomotives General Electric (GE) valued at about N12.5billion.
It was also during his tenure that the recently sacked MD of NRC Mr. Seyi Sijuwade was employed by the presidency.
"So as you can see the man has a lot to tell the committee because he kick started the whole process in the first place", a source close to the committee said.
While the DSS was invited to explain to its recommendation to the Office of the Secretary to the Government of the Federation regarding the poor management of the rail contracts between 2010-2014, the EFCC will give the committee the full details of its findings on the rail contract scam. .
Also, the OSGF is to tell the lawmakers the action it took on the investigative report submitted to it by the DSS.
"As for the acting MD of NRC, government is a continuum and he has to give account of what he knows under oath and produce all the contractors. The contractors too must tell the committee all they have done with convincing evidence of the state of the contracts they executed," the source added.
Chairman of the adhoc committee, Hon. Ehiozuwa Agbonnayinma, when contacted confirmed that the stakeholders have been invited to appear before the committee.
"I will always emphasize the fact that we are not out to witch hunt anybody provided your hands are not greased with locomotive engine oil laced with fraud.
"But once we unearth any ugly development no matter how highly placed the individual is we must expose him," he said.
-Emmanuel Ikechukwu