Find Out Rita Dominic Perfect Match For The Night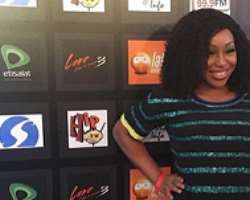 Nollywood actress, Rita Dominic, surprised some of her fans over the weekend when she stepped out for Darey Art Alade's event with a short gown.
The actress is always known for either dressed on long gowns or she goes on trousers but for the sake of the event she was attending, she was talked into dressing on a gown to compliment the evening.
Rita stated that at first she was not going to dress with such a short gown but she later realize that she felt comfortable while on it and it was just a perfect match for the night.
According to her, "Hadn't worn something this short in years and I was talked into wearing it, didn't want to at first but glad I did. It was super comfortable and appropriate."