Michael Ubogu: Accolade for the Entrepreneur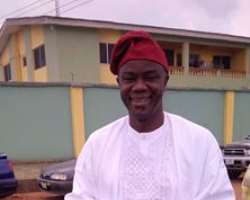 "Be not afraid of greatness. Some are born great, some achieve greatness, and others have greatness thrust upon them."---William Shakespeare, Twelfth Night
In Proverbs 22:29(KJV) says"Seest thou a man diligent in his business? He shall stand before kings: he shall not stand before mean men. This scriptural verse is referring to a man called High Chief Michael Orobosa Ubogu, the Enyioha 1 of Obingwa Kingdom, who came far away from Ashaka-Ozoro in both Ndokwa East and Isoko North LGAs of Delta State, to become one of the most sought-after maritime expert in Lagos State and Nigeria, using Micura Services Limited which he founded on February 16 th , 2007, to touch lives positively and create vast employment opportunities for many Nigerians including himself.
In Proverbs 29:23(KJV) says 'A man's pride will bring him low, but the humble in spirit will uphold honour and Michael Ubogu is gradually fulfilling the biblical principle of humility and love for the poor. His chieftaincy title from the Eastern part of Nigeria was given to him on the basis of his philanthropic love for the widows and orphans in Nigeria.
Again, Proverbs 28: 27(KJV) says 'He that giveth unto the poor shall not lack: but he that hideth his eyes shall have many a curse. Chief Ubogu remains one business man in Nigeria that has used his maritime company to give scholarships to indigent students from secondary school level to university level till date. In grassroots sports, Ubogu has helped many youths to discover their talents in sports with foreign connections over the years.
As the Chairman and Chief Executive Officer of Micura Services Limited, he also receives his monthly salary alongside with his workers too. The recent 9thanniversary of Micura Services Limited which was marked at the Redeemed Christian Church of God(RCCG) Joseph's Palace near Mega Chicken with Micura Staff shown the tenacity of a man who believes that success of Micura cannot be completed without giving thanks to Almighty God for making the company to succeed in the means of economic downturn in Nigeria. The thanksgiving service was well-attended by friends and staffers of Micura who has one way or the other benefitted from the company services over the years and guests were served with sumptuous meal.
Ubogu added that 2015, I had a great challenge in my company but God saw me through. I have every reason to thank God for His divine favour and grace in my life.
At 45 plus, Michael Ubogu has created a brand in the maritime sector through Micura committed staffers and his beloved wife, Princess Uloma Ubogu who never underrated his little beginning than seeing his divine future. Only few women in Nigeria today, can wait patiently to struggle with their husbands to the end. Any woman that wants to envy her marriage might have got it wrong because she prayed, fasted and waited for her husband's change to come.
For anybody to associate with a man like Michael Ubogu whose unimpeachable character of making others happy should otherwise considers himself or herself lucky in life. Only few of Ubogus still exist in Nigerian entrepreneurial world. He was never born with a silver spoon in his family but was homely brought up by his beloved mother (Mrs.Ubogu), who taught him on self-esteem and contentment of life. He came to Lagos many years ago, as a young boy full of life and believed confidently he can succeed in the city without qualms. Risk taking in life has helped Michael Ubogu to remain unwavering in pursuing his career on earth. He is not just a fêted maritime guru or wizard but an award-winning entrepreneur with faultless integrity. One thing that has kept Michael Ubogu rising in stevedoring business is humility, simplicity, honesty, integrity, hardworking, commitment, charisma, dexterity, intelligence and sincerity as well as corporate savvy and above all, God.
Only those who do not know Michael Ubogu's worth, would take his firmness to retribution. But to him, in every business, 90 percent commitment brings out quality service of a company and nothing more. Michael Ubogu's house or office is not Central Bank of Nigeria or Automated Teller Machine(ATM) but Central Bank of Nigeria, of vision, wisdom, excellence and knowledge. His maritime expertise is enough to drive the shipping sector to an enviable height if given opportunity by the federal government as a consultant. As a trained life-coach in entrepreneurial leadership, Michael Ubogu has become a household name in Nigeria doing pretty well in business. Business diversification is one core assignment of Michael Ubogu over the years and believes firmly in developing new businesses to become a mega one, if consistency and persistence is followed as Micura Services Limited has done for the past 9 years in the maritime sector.
My media closeness to High Chief Michael Ubogu, has largely contributed to the numerical growth of Mindset Media Limited in terms of media diversification. One thing I learnt from him also is humility but living a low-key lifestyle and prefers to use that expensive lifestyle to empower widows and orphans on yearly basis.
At the thanksgiving service, I summed his dress code; it was not more than #20,000 including a simple Palm Sandal to match with it. He also joined his Micura staffers to have the same dress code. You hardly know the boss of Micura Services Limited if you are not told. All his staffers wore smiling faces to celebrate Micura Services Limited at 9.May God continue to grow Micura Services Limited from strength to strength in Jesus Name Amen.
Godday Odidi
Social Media Analyst
Lagos
Disclaimer:

"The views/contents expressed in this article are the sole responsibility of the author(s) and do not necessarily reflect those of The Nigerian Voice. The Nigerian Voice will not be responsible or liable for any inaccurate or incorrect statements contained in this article."
Articles by Godday Odidi