Stop Killing Okigwe People, Athan Achonu Cautioned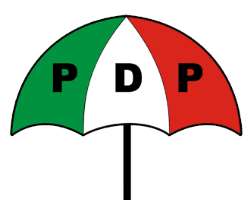 A pressure group, Okigwe Advancement Initiative OAI, has cautioned the People's Democratic Party (PDP), candidate, for the Okigwe senatorial rerun election, former Senator Athan Achonu, to stop killing innocent citizens of Okigwe zone, in desperation to win elections.
This is as the group warns that further killings of innocent Okigwe zonal citizens, by the loyalist of the PDP candidate, will be vehemently rejected by the people, adding that the antecedent of the PDP candidate since his childhood, which they noted were rooted in desperation and violence, lent credence to their conclusion that the killers, who are members of the PDP did not act without instruction.
According to the group, the recent killing of two APC members in Okigwe local government area, the kidnap of an APC leader in Isiala Mbano, the assassination attempt on Chief Chikwem Onuoha and the maiming of nine other members of the APC, portrayed Chief Athan Achonu, as a desperate politician whose conscience is completely dead, stressing that politics is about the people.
"' it is an insult on the sensibility of the entire Okigwe zone, for a former senator who cannot point to anything, as his achievement for the number of months he was in the senate, to turn around to hush, intimidate and kill innocent people for the sake of going back to the senate''.
The group in a statement signed by its Chairman and secretary, Dr. Ikenna Ikoku and Barr Ken Ihuoma, respectively noted that the killings has caused pain, grief, anguish, as well instilled fear among people of the zone and yet, the PDP candidate, Athan Achonu, who is been blamed for the killing has not deemed it fit to react or apologize to the people.
They said, " it is sad to note that the security of life and property of our people, as well as, their plight, is not of concern to a man who is desperately scheming to represent them in the senate''.
While calling on security agencies to probe the alleged killing of APC members who were killed on the eve of the Okigwe postponed rerun elections, the group advised the PDP candidate to immediately withdraw from the race or face disgrace at the polls.