You Are Pampering Killer Fulani Herdsmen......HURIWA Accuses Police; DSS; Presidency
And Condemns Ogoni Attacks By Armed Security Forces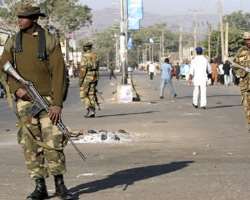 A PRO-DEMOCRACY Non-governmental organisation - HUMAN RIGHTS WRITERS ASSOCIATION OF NIGERIA (HURIWA ) has accused the Nigeria Police Force and the Department of State Service of compromise in the ongoing killings across the Country by armed Fulani herdsmen even as the Rights group said it was unconstitutional to placate mass murderers in the guise of staging what the security forces called farmers/herdsmen peaceful dialogue when those armed to their teeth and embarking on large scale mass murders are roaming freely and not prosecuted and punished by the Nigerian State.
HURIWA has therefore warned against sweeping the killings of innocent farmers by armed Fulani herdsmen under the carpets as that would in the long run result in vicious revenge killings by persons whose bread winners have been gruesomely murdered in their sleep by the rampaging armed Fulani herdsmen.
Conversely, HUMAN RIGHTSWRITERS ASSOCIATION OF NIGERIA (HURIWA ) has lambasted the Presidency and the National Security Adviser to President Muhammadu Buhari for abandoning their primary constitutional duties of providing efficient security of lives and property and globetrotting even as parts of Nigeria including most Local Government Areas occupied by Idoma speaking people in Benue State, parts of Enugu and some South West States including Ondo are under intense and intermittent murderous attacks by armed hoodlums suspected to be Fulani herdsmen.
The Rights group said it was painful that President Muhammadu Buhari could jet off to Saudi Arabia and other middle East nations amidst these catastrophic attacks masterminded by his kinsmen. "Agonisingly the Inspector General of Police and the Director-General of Department of State Service are not fired after hundreds of innocent Nigerians are gruesomely murdered. This state of impunity that is systematically institutionalised by the current Federal Administration is hereby strongly condemned as primitive; inhumane, brutal and unconscionable ".
HURIWA said in a statement signed jointly by the National Coordinator Comrade Emmanuel Onwubiko and the National Media affairs Director Miss Zainab Yusuf, that it was unthinkable that hundreds of farmers are killed, thousands of women raped and massacred by suspected armed Fulani herdsmen and the President of the Federal Republic of Nigeria whose primary constitutional duty is to provide security of lives and property is busy gallivanting across major capitals of the terrorism afflicted middle East Region in a series of merry-go-round foreign trips that has so far attracted nothing by way of foreign direct investment but has rather unleashed collective penury and the systematic depletion of scarce public resources in servicing the exotic planes within the elaborate Presidential fleet that are used for these meaningless foreign tours by President Muhammadu Buhari and his retinue of cabinet level aides.
The group said it was only in a highly insensitive country like Nigeria that the President can comfortably embark on endless foreign trips exactly at the perilous times when his nation is on fire and increasingly becoming unstable and insecure due to the dare devilry of armed terrorists such as Boko Haram; Armed Fulani terrorists; Kidnappers of all dimensions and the systematic state sponsored terrorism against innocent unarmed civilian protesters calling for the separate State of Biafra.
" HURIWA is constantly bombarded with calls from distressed Nigerians on the current State of insecurity and attacks of farming communities by armed Fulani herdsmen but all our advocacy activities carried out to draw the attention of President Muhammadu Buhari has yet to be adhered to as the Nigerian Government has yet to view the mass killings of armed Fulani herdsmen as a grave threat to national security. We condemn in no uncertain terms the plots by the hierarchy of the Department of State Service and their counterparts in the Nigeria Police Force to organise fruitless and illegal peace meetings between the killer armed Fulani herdsmen and the victimised local farmers all across Nigeria as against the tenets and letters of the constitution which absolutely prohibits murder. Those who have carried out mass genocide must be arrested and prosecuted and their sources of arms and weapons identified as the best way to restore sustainable peace."
HURIWA has also expressed serious shock at the large scale killings of local people in Ogoniland of Rivers State by soldiers even as it has canvassed the institution of a judicial commission to uncover those who undertook these mass killings and to immediately arrest and prosecute them for these crimes against humanity. The Nigerian Government must not implement policies that could snowball into the springing up and/or proliferation of armed militants in the crude oil rich Niger Delta region. The Rights group has again called for an end to the needless persecution by the Federal Government of the leader of the Indigenous People of Biafra and Director of the Europe Based Radio Biafra Mr Nnamdi Kanu.