CBN Governor Emefiele reshuffles directors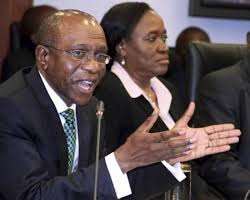 The Central Bank of Nigeria has reshuffled the portfolios of some of its directors, as it seeks to re strategies for more effective foreign exchange management.
The soar-away prices of the dollar at the parallel market has been a source of concern for the top officials of the apex bank, with accusing fingers pointing at some of its officials as collaborators in the manipulation of the parallel market end of the currency market.
The CBN Governor, Mr. Godwin Emefiele, authorised the reshufflement, which resulted in the Director of Corporate Communications, Alh. Ibrahim Muazu, moving to the Strategy Management Department (SMD).
The Corporate Communications  Department has remained vacant as no replacement has been named, as at Friday.
Meanwhile, Dr. Alvan Ikoku was named  the new Director for the Trade & Exchange Department, TED, which is said to be very critical to the management of the foreign exchange market.
Mr. Edward Adamu was appointed the new Director of Human Resources, Olasukanmi Gbadamosi, Director of the Legal Department; Chizoba Mojekwu, Capacity Development Department and oversee the International Training Institute (ITI) Learning Centre.
President Muhammadu Buhari had said last week that officials of the apex bank were responsible for the crisis in the forex market.
The president alleged that these officials would open  Bureaux De Change which they use as conduit for round-tripping, thereby creating artificial demand for the dollar.