Police arraign woman for raping another woman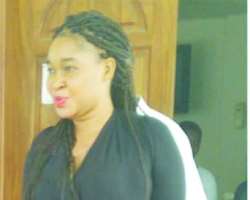 A 26-year-old Ghanaian woman, Queeny Akuffo, has been charged with raping a 22-yearold woman, identified simply as Janet, with an artificial penis after luring the woman to her house.
According to Ghana Web, the victim said she was not in any intimate relationship with the accused prior to the incident.
Queeny has pleaded not guilty to the charge of rape and has been granted bail by the court, presided over by Mrs Abena Oppong Adjin-Doku.
She is said to have sedated Janet, who is her neighbour and raped her with an artificial penis, otherwise called a dildo at Ablekuma in the Ga West District of Greater Accra.
The facts of the case are that on January 25, 2016, Janet was on her way to buy food for her son when she received an invitation to visit Queeny.
According to the prosecution, the victim quickly went home to attend to her son before she honoured the invitation.
When she entered Queeny's house, she was ushered into the sitting room, where Queeny offered her a glass of Vodka, but she declined it.
However, Queeny convinced her to take it with the explanation that it was non-alcoholic. After she had taken the drink, the victim realised she was becoming tipsy, but Queeny assured her it was normal.
'Later, Queeny sent her sister who lived with her to buy two bottles of beer which they consumed,' the prosecution said.
The victim passed out after taking the beer only for her to wake up the next day in her own house.
According to the police, it was later that Janet realised Queeny had drugged and raped her with an artificial penis and recorded it.
When the case was called, counsel for the accused failed to show up, prompting the presiding judge to issue a stern warning to the accused to impress upon her lawyer to show up at the next sitting.
'Tell your lawyer that the court will not tolerate any excuse if he fails to show up. In such an instance, the court will have no choice but to allow you to lead your own defence,' the judge said.