Gianni Infantino Elected new FIFA president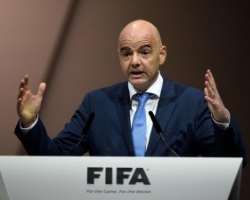 Gianni Infantino has succeeded Sepp Blatter as the new president of FIFA after winning an election that went to two rounds on Friday in Zurich.
The 45-year-old UEFA general secretary, a lawyer and sports administrator who joined European football's governing body in 2000 and rose through the ranks, became FIFA's first new president in 18 years.
Blatter, who is serving a six-year ban from football, announced his resignation last June following a corruption scandal that engulfed the organisation in May.
Infantino was elected in the second round of voting with 115 of the 207 votes from FIFA's national associations, defeating Sheikh Salman Bin Ebrahim Al Khalifa, who had 88.
Prince Ali Bin Al Hussein of Jordan retained 4 votes, and former FIFA executive Jerome Champagne of France had none once voting went to a second ballot after no candidate earned the required two-thirds majority of votes in the initial voting process.
Infantino led the first round with 88 votes, followed by Sheikh Salman with 85, Prince Ali with 27, and Champagne with 7.
Infantino fell 50 votes short of securing the election in the first ballot. In the second round of voting, only a simple majority was needed to win the election, and voters were allowed to change their selections.
Infantino had originally been included on the ballot as a stand-in for UEFA president Michel Platini, who was barred from running after he was banned from all football-related activity by FIFA over a two million Swiss franc ($2m, £1.35m) "disloyal payment" made to him by Blatter.
Infantino had said he would stand down if Platini's ban had been overturned, but he now finds himself the leader of one of the world's largest sporting organisations.
He is credited with running UEFA's day-to-day operations during its commercial boom. In his pre-election speech on Friday, he spoke in five different languages for the first 75 seconds without notes and portrayed himself as a leader for the world, not just his own wealthy confederation.
"We have to get Europe to do much more," Infantino said.
During his campaign, he promised more of key FIFA gifts to member federations: more guaranteed funding from FIFA's $5 billion-plus World Cup revenue, more places in an expanded 40-team tournament and more opportunities to stage the World Cup with multi-national regional hosting.
South African businessman Tokyo Sexwale had also been running for the presidency but dramatically withdrew from the race right before voting began, ending his address by saying: "It's your problem now."
Law enforcement agencies from Switzerland and the United States are both conducting large-scale investigations into the systemic corruption of Blatter's tenure.
Platini and Blatter had their initial eight-year suspensions reduced to six by FIFA's Appeals Committee, although both men are expected to take their battle to the Court of Arbitration for Sport (CAS).
Earlier on Friday, FIFA members voted in favour of proposed reforms to address issues of governance, accountability, transparency and diversity.