Finally: Rev. King to Die By Hanging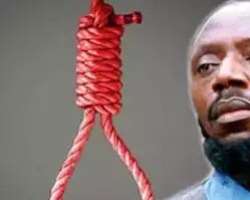 Today, the Supreme Court okayed the convicted G.O of the Christian Praying Assembly, Chukwuemeka Ezeugo, a.k.a Rev. King, to die by hanging.
Ezeugo was convicted and sentenced to death by hanging on January 11, 2007, for the alleged murder of his church member, Ann Uzoh.
He was arraigned on September 26, 2006 on a 6-count charge of attempted murder and murder, at the instance of the Lagos State Directorate of Public Prosecutions.
Dissatisfied with the judgment, Ezeugo took the case before the Lagos Division of the Court of Appeal. After due consideration of the case, a 3-man panel of justices of the appellate court, in a lead judgment that was delivered by Justice Fatimo Akinbami, dismissed his appeal and upheld the high court verdict. Determined to save his life, he lodged an appeal before the Supreme Court, which has now okayed his death sentence.