GOVERNOR OKOROCHA CONGRATULATES PFN AT 30
… AS HE RECIEVES PFN LEADERSHIP AWARD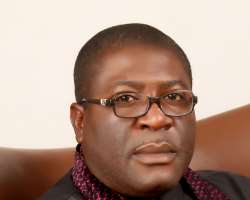 The Governor of Imo State, Owelle Rochas Okorocha has felicitated with Pentecostal Federation of Nigeria as it celebrates its 30th anniversary describing the umbrella body of the Pentecostal churches in Nigeria as agent of positive change and unity.
Governor Okorocha made this remark earlier today at Isolo, Lagos State during the flag-off of PFN 30th anniversary and dedication of her Bishop's Court through his deputy, Prince Eze Madumere.
The number one citizen of Imo State through his deputy, Prince Madumere showered encomium on the leadership of PFN, at present, under the leadership of Rev. Felix Omobude and the past leadership for their unity of purpose and sticking together in The Lord Jesus to accomplish every task, every goal they set for themselves.
Speaking further Governor Okorocha eulogized the body for her critical role, which has in no little way contributed to the cohesion and unity of Nigeria.
He also used the opportunity to call on the clergy to continue in their prayers for a much more cohere and unified Nigeria where there will be religious tolerance and relegation of ethnicism.
Prince Madumere who described his boss as a detribalized Nigerian encouraged the PFN to continue the work of faith especially in changing the conduct and attitude of Nigerians towards realizing the Nigeria of collective dream.
Earlier in the programme, Bishop Mike Okonkwo said the prayer of dedication after Governor Udom of Akwa Ibom officially opened the Bishop's Court.
In his address, the former Chairman of Christian Association of Nigeria, Imo State chapter, Rev. Cosmos Ilechukwu explained the categories of award, which one of them was PFN leadership award, under which the former President and Head of State, Olusegun Obasanjo and General Yakubu Gowon respectively were awardees followed by Governors Okorocha and Udom of Imo and Akwa Ibom States respectively. Other awardees are Dr. Felix Ohiwere, Major Gen. Dogoyaro (Rtd) and Pastor Adefarasin.
Meanwhile Miss Josephine Ugwu, the lady who found and returned $27,000 in Murtala Mohammed Airport, Lagos State was also honoured with an award of integrity with a cash award of N250, 000 in appreciation and to encourage others to emulate such strength of character.
Uche Onwuchekwa
Special Assistant to the Deputy Governor on Media