Kate Henshaw Wades In On Alleged 14-year-old Girl Rape Case By Mobil Engineer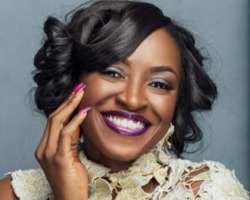 BEVERLY HILLS, February 25, (THEWILL) – Remember the case of the Exonn Mobil staff, James Onuoha who was accused of raping the 14-year-old niece of one of his tenants. The accused who was granted bail in the sum of N2m shared his side of the story with OB a while back.
From recent development, the Lagos Sate Directorate of Public Prosecution has recommended the trial of Onuoha and the case transferred to the state High Court, Igbosere.
The magistrate, Mrs. O. A. Ogunbowale, adjourned the case till April 19, 2016, for the court to be presented with documents confirming the transfer of the case from the Magistrates' Court to the High Court, reports Punch .
Nollywood actress, Kate Henshaw has aired her thoughts on the case. The Special Adviser-Liasion, Lagos to the Governor of Cross River, Ben Ayade, took to Instagram a few hours ago to give an update on the case.
Read her post:
FACE OF A RAPIST… IKENNA ONUOHA AN EMPLOYEE OF EXXONMOBIL RAPED A 14YR OLD GIRL WHO IS THE NIECE OF HIS TENANT IN THE PRESENCE OF HER 3YR OLD COUSIN ON THE 4TH OF JAN 2016.. THE TENANTS HAD TOLD HIM THEY WOULD NOT BE AT HOME WHEN HE INFORMED THEM HE WANTED TO COME AND DISCUSS OUTSTANDING RENT DEBT.. HE STILL PROCEEDED THERE…THE GIRL TOLD HIM THAT HER UNCLE AND AUNTY WERE NOT HOME…HE INSISTED ON GOING IN TO WAIT FOR THEM.. AFTER HE FORCEFULLY RAPED HER, HE LEFT N1000 ON THE BED. WHEN THE AUNTY CAME HOME, IT WAS THE 3YR OLD GIRL WHO REPORTED WHAT HAPPENED… JAN 14TH THE RAPIST WAS ARRAIGNED AND GRANTED BAIL OF N2M WITH TWO SURETIES IN LIKE SUM… THE MATTER HAS BEEN ADJOURNED TILL APRIL 19TH. 2016. PUNCH NEWSPAPER, TODAY, 24TH FEB. PAGE 4. 1. RAPISTS SHOULD NOT BE GRANTED BAIL. THIS WILL ACT AS A DETERRENT. 2. ACTION SHOULD BE EXPEDITED ESP FOR RAPE CASES SO THAT VICTIMS DO NOT WAIT LONG FOR JUSTICE AND CAN BEGIN THE PROCESS OF COUNSELLING AND HEALING. 3. TEACH CHILDREN TO SPEAK OUT.. THANK YOU TO THE LAGOS STATE DIRECTORATE OF PUBLIC PROSECUTIONS FOR RECOMMENDING THE CASE FOR TRIAL.. THANK YOU TO ALL THE AGENCIES INSTRUMENTAL TO FIGHTING THIS CAUSE.. #ISTANDAGAINSTRAPE
A photo posted by Kate Henshaw (@k8henshaw) on Feb 24, 2016 at 4:35am PST