UN HABITAT 3: world leaders worries over 827m slum settlers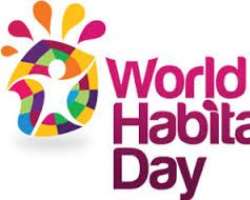 UNITED Nations Human Settlements Programme (UN-Habitat) has revealed that more than 827 million people were living in slum-like conditions resonated in the on-going Habitat 3 African Regional Meeting in Abuja.
Over 30 ministers from different African Countries and some lead experts from the United Nations who are deliberating on various issues affecting urbanization and the welfare of people who are not within the scope of urban centres in the Regional Meeting are all of the opinion that the issue of urbanization which is about human settlement should not be handled with lack of strong political will to implement policies as it has always been the major cause of the problem militating against even development of new cities especially in developing countries.
The Minister of State of Power, Works and Housing, Mustapha Baba Shehuri noted this while Declaring the Technical session of the meeting open in Abuja.
He said that the meeting marks an important milestone on the road to actualizing the United Nations Visions on sustainable Urban Development.
"Urbanization is virtually on a rampage across this continent and its attendant crushing consequences are so glaring. There is a debilitating urban poverty and most of the emerging cities are not functional economically or otherwise,"the Minister said.
Shehuri admitted that past attempts and strategies employed by governments to ameliorate the situations that militates against good plans and policies implementation on urbanization showed no visible success.
Joan Clos, the Secretary –General of the Habitat 3 Conference in a statements made available to Journalists noted that to secure renewable political commitment to sustainable urban development, assess accomplishments and address the issue of poverty ravaging people who live in semi-urban settlements, the conference will focus more and address emerging challenges.
He added that, "Habitat 3 is to play an important role in making cities and human settlements equitable, prosperous, sustainable, just, equal and safe.
Brighten your day.