Dasukigate A Child's Play Compared To Wikegate---Rivers APC
Urges Urgent Probe Of Wike's Looting Spree From His Days As A Minister Till Date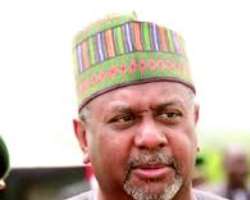 The much publicised $2.1 billion arms fraud popularly known as Dasukigate is a child's play when compared with the looting spree at the Federal Ministry of Education under the watch of Chief Nyesome Wike, the Rivers State Chapter of the All Progressives Congress (APC) has said.
The party made the submission while reacting to the recent revelation by the Peoples Coalition Against Corruption ( http://saharareporters.com/2016/02/05/anti-corruption-group-makes-shocking-revelations-against-rivers-governor-nyesom-wike and http://www.elombah.com/index.php/reports/press-statements/4908-groups-says-rivers-governor-wike-is-atrociously-corrupt ) concerning the alarming fraudulent deals of Chief Wike, the incumbent Governor of Rivers State, right from his days as Minister of State for Education and later as the Supervising Minister of Education.
The group had alleged massive theft and diversion of resources from TETFUND, the swindling of over N100 billion Universal Basic Education Fund, as well as the conversion and diversion of over N20 billion of the Ministry of Education budgets in four years under Wike's watch. In addition, according to the group, "Between 2012 to and May 29th 2015, Nyesome Wike using his position as Minister of State for Education caused to be awarded to himself through his companies and cronies several contracts which he did not execute but for which he received full payment.
For instance, on the 28th day of June 2012, the Niger Delta Development Commission (NDDC) under the hand of Engr. E. Eshett awarded the CONTRACT FOR CONSTRUCTION OF RUMUEPIRIKOM INTERNAL ROADS (PHASE 1 & 2), OBIO/AKPO to CICO INDUSTRIES LTD for the sum of #2,673,121,782.24 (Two Billion, Six Hundred and Seventy-Three Million, One Hundred and Twenty-One Thousand, Seven Hundred and Eighty-Two Naira and Twenty-Four Kobo). Beside the fact that CICO INDUSTRIES LTD is not a Civil Engineering company they were awarded with the contract for the construction of Rumueprikom Internal Roads and have been fully paid by NDDC, using his crony Hon. Henry Ogiri.
CICO INDUSTRIES LIMITED did not execute that job. Instead, in 2015, upon emergence as the Governor of Rivers State, Barr. Nyesome Wike, knowing that the same road had been awarded to him through MESSER CICO INDUSTRIES LTD for which he had been paid did without any form of compliance with the Rivers State Procurement Law and in other (sic) to cover his criminal act and intention, surreptitiously awarded the same RUMUEPRIKOM INTERNAL ROADS to RENNIER CONSTRUCTION COMPANY (RCC) for even a high amount than the pricing of the NDDC."
Rivers APC in a statement signed by its Chairman, Dr. Davies Ibiamu Ikanya, and issued Wednesday in Port Harcourt, described the revelations by the Peoples Coalition Against Corruption as a tip of the iceberg. "Based on what we know of Chief Wike's activities in government in the past few years, we make bold to say that these revelations by the Peoples Coalition Against Corruption represent a small fraction of Wike's corrupt acts. As a matter of fact, Wikegate, if we may call it that will make Dasukigate look like a child's play when the full details are made known," Rivers APC said.
The party appealed to the Presidency and relevant Federal Government agencies to launch without delay, a full-scale investigation into Wike's fraudulent activities as a minster and now as a governor with a view to recovery public funds lost in the process. Rivers APC also called for the immediate arrest and prosecution of the staff of NDDC that aided Wike in his looting spree, Rivers State Government, CICO, RCC, as well as the bank officials that colluded to swindle Rivers State and Nigeria.
"As we commend and congratulate President Muhammadu Buhari for his drive to eradicate or reduce corruption to the barest level possible in our nation's polity, we wish to encourage him not to relent no matter the odds and the efforts of corrupt Nigerians to fight it back. We totally agree with him that if we don't kill corruption, corruption will kill us as a nation," the party stated.
Long Live APC!
Long Live Rivers State!!
Long Live Federal Republic of Nigeria
Long Live President Muhammadu Buhari
Chief Eze Chukwuemeka Eze,
SSA Media and Public Affairs to the State Chairman, APC Rivers State.
24 -02-16