UK RETAIL SALES RISE WORSE THAN EXPECTED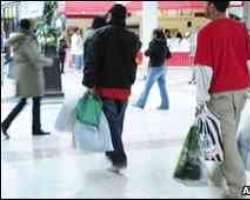 Growth in consumer spending is expected to remain sluggish this year
Retail sales volumes during March rose by 0.4% from the month before, a smaller increase than had been expected, official figures have shown.
The increase was below the average 0.6% rise predicted by analysts, and some economists said this could mean lower than expected growth for the economy.
Sales had risen strongly in February, but this came after January's sales had been disrupted by the cold weather.
March's sales volumes were up 2.2% from a year ago, the figures showed.
The Office for National Statistics also revised the monthly sales growth seen in February up to 2.5% from its initial estimate of 2.1%.
However, sales volumes during the first three months of 2010 were down 1.7% from the final three months of 2009.
Analysts said weakness in consumer spending could have hit economic growth in the first quarter of 2010. The initial growth estimate for the first three months of 2010 is due to be released on Friday.
"March's disappointing growth in retail sales fuels our suspicion that the upside for consumer spending – and hence overall economic growth – will be limited in 2010 as households still face very challenging conditions," said Howard Archer at IHS Global Insight.
However, some analysts took a more positive view of the figures.
"Month-on-month data is extremely volatile," said Amit Kara at UBS. "But the message from today's data… suggests that the February bounce back was not isolated and there is still a little momentum in retail sales growth."