Fight Economic Saboteurs In Nigerian Banks: An Open Letter To President Muhammadu Buhari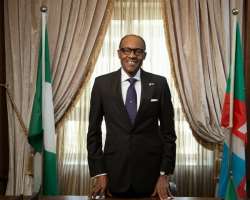 Your Excellency,
So far, Nigerians are genuinely convinced that you and your team are resolved to build a stable and prosperous nation; a country that is inclusive of all her diverse people and a country that is at ease with itself.
Every patriotic Nigerians are also mindful of why relentless war against the cancer of corruption is necessary, and so far your administration is standing firm on this in the interest of all, especially the downtrodden in the society, this is indeed the beauty of modern and decent democracy. So long as corruption holds center stage in the affairs of Nigeria, the country will continue to suffer incalculable harm, but with your intervention sir, Nigeria is turning the tide for good.
However, there are some cartel in the Nigerian banks including the apex bank (CBN) who are flippantly and intermittently engaged in economic sabotage, their activities must be speedily checked, otherwise they will soil the good image and goodwill that your administration enjoys from Nigerians and friends of Nigeria.
What these so called big boys in these banks do is to arrange cronies and front busi­nessmen abroad to apply for fo­rex at N197 to the dollar on their behalf, and then find a way to get the money back to the black mar­ket for as much as N350-N370 to the dollar,this is outrageous and abnormal to say the least.
Sometimes, under 'arrangement', they get 'le­gitimate businessmen' to over-de­clare or inflate the value of their imports. Having used their ''con­nections'' in the CBN to source fo­rex for the businessmen, the difference in the assumed and real value of the imports is usually shared with the businessmen who, in any case, have much to gain from the transaction.
Customers of some banks who genuinely need forex, especially those in the manufacturing and automobile business, have began pointing accusing fingers at the apex bank for allo­cating forex that is more than necessary to big players like the Dan­gote Group, whilst other players are made to wait.
With due respect Your Excellency, it is also sad and regrettable to see that Nigerians in diaspora especially those in United States of America who for the nature of their legitimate business use their Master Cards to access funds that are domiciled in their respective Nigerian banks are now being charged N315 to a US dollar as against the recommended official CBN rate. This in my view is fraudulent, callous, and inhuman, this excesses should be brought to a halt so that businesses don't die naturally. The CBN Governor should be saddled with the responsibility to fish out these bad eggs with immediate effect, otherwise he would be considered as an accomplice to this crime against Nigerians in diaspora and also at home.
It is high time every citizen of Nigeria especially the anti-graft agencies began to put our officials in check especially with strong ac­cusations of gratification being received by officials of the CBN and commercial banks before custom­ers are able to obtain foreign exchange. This kind of news coming out of our financial market is not healthy for our financial system and if not urgently addressed it will ruin your efforts in the fight against corruption.
I urge you sir, Your Excellency, to look inwards and do the needful before it is too late. May God see you through and crown your efforts for success.
Please accept, Excellency, the assurances of my highest consideration.
Alhaji Aremu Jimoh,
Newark, New Jersey,
United States of America.
Disclaimer:

"The views/contents expressed in this article are the sole responsibility of the author(s) and do not necessarily reflect those of The Nigerian Voice. The Nigerian Voice will not be responsible or liable for any inaccurate or incorrect statements contained in this article."