We won't bow to pressure on anti-corruption war, says Osinbajo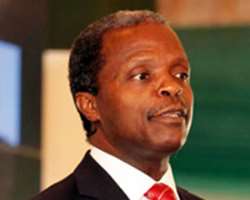 Vice President Yemi Osinbajo on Tuesday said the present administration would not succumb to pressure being mounted on the government to concentrate on governance and allow looters of public funds to go free.
Osinbajo disclosed recently that some unnamed Nigerian elite were putting pressure on President Muhammadu Buhari to stop his administration's ongoing anti-corruption war.
He said on Tuesday that if the government does not fight corruption, it would not be able to deal with the economy.
According to a statement by his Senior Special Assistant on Media and Publicity, Mr. Laolu Akande, the Vice President spoke while granting audience to a delegation of the Trade Union Congress at the Presidential Villa, Abuja.
He was quoted as enjoining all Nigerians to support government in the fight against corruption.
He said, 'If you don't fight corruption, you cannot even deal with the economy.
'You need to hold corrupt people accountable because they stole the money meant for the economy'.
In his response, the President of the TUC, Bobboi Kaigama, said the purpose of the visit was to avail the Congress the opportunity to parley with the Vice President on some pertinent issues affecting the nation, especially those that related with the working class of Nigerians.
He said, the Congress also expressed support for the Buhari administration's zero-tolerance for corruption. According to Kaigama, 'Nigerian workers are solidly behind you in the fight against corruption, we are ready to come out in solidarity and show our support.' Punch