Comedian Ay's Marriage Has Allegedly Packed Up! Wife Mabel Moves Out Of Home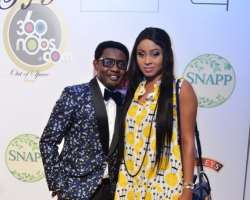 BEVERLY HILLS, February 23, (THEWILL) – Details are coming to light in the wake of breakup tales trailing Ay Makun 's marriage to Mabel . As earlier reported, Mabel has allegedly moved out of their Lekki home.
However, the comedian went on social media to debunk the reports calling out SDK- the blogger that broke the news for being a "bringer of bad news".  He went on to prod her to release more details about Mabel moving out since she has all the details of his marriage breakup.
SDK has indeed responded to AY 's clapback with another post and she goes on to spill more details on Mable packing out which she states categorically as true, adding that she takes no joy in reporting negative news.
Read what she wrote below…
"Let me state here Categorically that  MY STORY IS TRUE  and i take no Joy in reporting such News,just that what must be told must be told.
You laugh at others when their News is out but when it gets to yours it becomes a problem?Excuse me!
I choose to leave the dirty details of what happened for you to tell your fans on your social media handle.If you are embarrassed that the story has been posted,then i understand but your beautiful wife packed out of your house with a big truck and she took everything take-able and your house is currently under lock and key…unless she returns this night.
Instead of dragging or fighting dirty with you,I pray that God restores your Union and gives you the wisdom of Solomon to act right.
Some Blogs will not be bringers of bad news if you do not produce the bad news!
If you are talking about gossip,you produce and distribute it too so why call out your colleagues?Why have you been phone crashing with friends on the way forward?Didn't your "F" President friend do all he can to beg WIFEY to stay?
I will not help you launder your dirty story online,Don't let the devil use you to call me out AY,you have Jesus' number,use it!
Whose report to believe? God's report!…The one that will deliver you from your chronicle of blah blah!
#I am out!"
Story unfolding….