I Lost my Ex-lover Because of Poverty… Toke Makinwa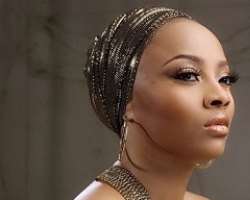 Popular OAP, Toke Makinwa has recently been in the news for different reasons. The light skin diva whose marital status is unknown since the quarrel she had with her husband.
It's unknown if the couple are divorced, separated or still together, as she has successfully placed everyone in the dark about the issue.
The OAP has recently revealed that her loss in the past made her strive so hard to be successful. She said, her dad was poor and that made her loose her ex, who claimed they couldn't build a future together due to the low standard of her family.
Though some fans saw her words as a way of seeking attention, but the diva might just be pouring out what have been eating her up all this years, and wanted to share and encourage some one out there.
According to her, that made her tasty and hungry for success, and she strived so hard to achieve it. Looking at where she is today, one can say she has actually done well for herself. Toke is a popular OAP who knows her onions and uses it well.
In her word: " I asked him why he thought we wouldn't work out, he responded saying we are from different worlds, his family had high expectation of him to bring home someone of a similar background and my dad was a nobody. That made me develop a hunger for success.i vowed to make a name for myself, to make something out of my life."