Botched mmigration recruitment: EFCC to arraign Moro, others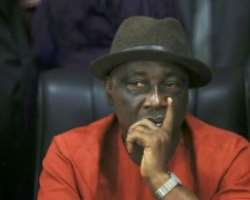 A former Minister of Interior, Abba moro, is presently in the custody of the Economic and Financial Crimes Commission where is being made to clarify issues involving the whereabouts of the proceeds from the fees paid by candidates for the exercise.
The  immigration recruitment exercise  led to the death of about 20 young graduates.
The former minister is being interrogated alongside a former Permanent Secretary and a director over the N650million proceeds of the botched Immigration recruitment exercise will commence soon.
According to the report, the fate of  a former Comptroller-General  of the Nigerian Immigration Service (NIS), Mr. David Parradang, was unknown as at press time.
In 2014, the immigration service under his watch organised a recruitment exercise nationwide on the same day and due to the massive crowd, officials of the immigration were unable to effectively control the crowd.
This error led to the death of the young graduates and the former President, Goodluck Jonathan, ordered an investigation into the situation, a report which is yet to be made public.
EFCC source confirmed the arrest of the key actors in the botched recruitment exercise, which resulted in a national tragedy.
"We have detained Moro, a former Permanent Secretary in the Ministry of Interior and a director.
"We need to tidy up a few things but it is likely that these former public officers will be arraigned in court any moment from now. I think they might go to court on Tuesday (today)  from detention.
"No one can account for the whereabouts of the N650million collected from applicants. Out of the fees, N212million was budgeted for the March 2014 recruitment exercise but N45million was eventually released and some officers still helped themselves with it.
"So far about N167million meant for logistics on the test day could not be accounted for by anyone or group," an unnamed official of the anti-graft agency was quoted to have said.
About 6.5million applied for 5,000 immigration jobs but the conduct of the test in March, 2014 led to the death of 15 applicants. Scores were injured in stampede in Abuja, Port Harcourt and Minna.
Each applicant paid N1,000.
The EFCC  stepped into the job scandal to ascertain the whereabouts of the N650 million proceeds of the exercise.
On Parradang's fate, a source at the anti-graft agency was quoted as saying, "We have not taken a decision on him. But do not forget that we also quizzed him."