APC Cannot Dictate For A'Ibom Governor—Media Aide Replies Cabinet Shakeup Advocates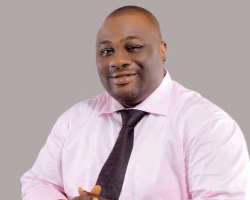 A Crisis Communication Expert and Public Affairs Strategist, Mr Uwemedimoh Umanah has cautioned those he described as "emergency advisers" of the Governor to leave the state governor to concentrate on his task of delivering superior performances and industrialization for the people of the state.
Mr Umanah, while reacting to persistent clamour by a section of the media suspected to be sponsored by the opposition, noted that Governor Udom Emmanuel has carefully laid-down programmes for the state as contained in his administration's 5 point agenda, and had clearly mapped out strategies and the quality of personnel required for achieving these agenda.
Mr Umanah who is also a media aide to the state governor wondered why those who never wished the governor well from the primaries , through the elections, to the elections-petitions stages are the ones who have assumed for themselves the post of "advisers", when in the actual sense, they are being instigated by some APC bigwigs who are ideologically and politically opposed and belligerent to the Governor.
"I know those who have sent them to infiltrate the ranks of the system. They are repositioning for 2019, and I can bet you, the APC will be presenting a candidate from Eket Senatorial District to challenge Governor Emmanuel, but they won't succeed, because the Divine Mandate is truly God's project. ...Their aim of this "sudden advisers" is to have where to be making little financial gains, get useful information for their principal and abandon us in 2018..."
"The state governor, Mr Udom Emmanuel is a focused, brilliant, intelligent, and politically dynamic gentleman who knows what he wants and how to achieve same...he alone, knows what he wants from each member of his Executive Council, and I know, as a Public Policy Analyst, that merit and political exigency would determine whoever he keeps in his government", said Mr Umanah.
On the area of under-performance by some cabinet members who were part of the immediate-past administration, Mr Umanah said that nobody on earth can fault the immediate-past administration in termed of performance. He said the fact that one or two projects weren't completed doesn't erode the fact that these commissioners supervised most of the highly commendable ones like the International Stadium, 20th Anniversary Hospital, Ibom International Airport among others.
In Mr Umanah's words, "If there is any place that deserves a shakeup, it's the federal Executive Council under whose watch Nigeria is experiencing terrible economic woes and untold hardship...The APC should stop their time-buying and diversionary tactics and focus on the onerous task of nation-building. Above all, they should know that 2019 is around the corner and the people would judge them based on the tangible deliverables rather than on sophisticated rhetoric".