Delta APC Sec Meeting Ratified, Voted Overwhelmingly In Support Of Chief Great Ogboru, Senator Ovie Omo-Agege And Rt. Hon Victor Ochei Joining APC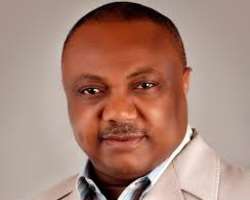 It was hilarious, superlative and heart warming as the extented State Executive Council (SEC) members of the All progressives Congress (APC) deliberated and in onism voted massively; accepting the Peoples general, Chief Great Ogboru, Senator Ovie Omo Agege, Rt. Hon. Victor Ochei and their political structures to APC.
State leader of APC and federal OFFICER OF THE ORDER OF THE NIGER (OON), Olorogun Otega Emerhor upon request by State Chairman of the party, Prophet Jones Ode Erue gave a brief insight to the several consultations among the parties at both State and federal levels culminating into the major agenda SEC.
There was jubilation and snapping of the feet as party executives clique glasses and gave express approved. Speaker and speaker commended the efforts of Emerhor, describing his leader as fruitful, strategic and divinely inspired.
SEC screened nominated "WELCOME COMMITTEE" members from the three senatorial districts with regards to federal constituencies, inaugurated the committee to immediately commence discussions with Ogboru and Ochei groups as to modalities for the mega unity rally expected to finally nail PDP coffin in Delta State.
SEC also approved the constitution of other committees including State Publicity Committee that will effectively and proactively engage the opposition.
Party Chairman, Prophet Erue said Chief Ogboru, Senator Ovie Omo Agege and Ochei are seasoned politicians who knows the tricks of the opposition such that joining forces together to stop the 16 years plus misrule of PDP was long over due.
Elder Statesman and member of Board of Trustee of APC, Chief Frank Ovie Kokori said "I am the happiest man on earth today. It is very painful to see our huge material and financial resources go down the drain helplessly. Now, I can say that PDP days are truly numbered in Delta State."
Sir Olisameka from Delta North danced and poured ecomium Olorogun Emerhor describing him as a dogged fighter and strategic leader. He urged party chieftains and members to commence mass mobilization of the electorate towards 2019.
Former Acting Managing Director of Niger Delta Development Commission (NDDC), Pastor Power Aginighan promise to effectively mobilize the IJAW NATION to embrace the party, pointing out that the misrule of PDP knows no bound.
Speaking to reporters at the end of deliberations, State party leader, Olorogun Emerhor said "I am indeed very happy. My and indeed the party priority right now is to further mobilize and sensitive Deltans. 2019 is around the corner and work starts right now. Anybody can be the party candidate in 2019; my immediate and future desires is to see APC take over the State and produce the next governor."
SEC approved committees are to commence work without delay so as to achieve the goals of the party come 2019 and beyond.
Signed:
Dr Fred Latimore Oghenesivbe, M.NIIA
APC DELTA PUBLICITY UNIT.
Asaba, Delta State.
Tel: 08033071816