Senator Abe Lambasts Wike For Insincerity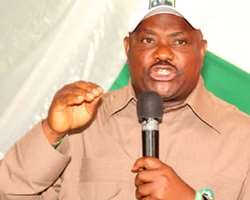 Senator Magnus Ngei Abe, the All Progressives Congress (APC) candidate in the Rivers South East Senatorial District re-run election has lambasted Governor Nyesome Wike for not being sincere to Ogoni people.
Speaking while reacting to a statement credited to Governor Wike where he asked the Ogoni to vote against Senator Abe as a matter of priority, at a groundbreaking rally for Senator Abe, organized by Khana Connected Friends at Bori Police Field, Bori in Khana Local Government Area, Abe queried why who would win Rivers South East Senatorial election was more important to Wike than who would win in his own Senatorial District, the Rivers East.
He said that Wike's comment was a grand design to ensure that Ogoni people did not have adequate representation and strong voice in the state and at the national level.
Senator Abe wondered why Wike would claim to love Ogoni people when he had been treating the ones working with him in his cabinet shabbily.
"If Wike loves Ogoni people, he should start with the ones working with him. Why did he suspend Fred Kpakol without even hearing from him", he said.
The former Secretary to the Rivers State Government said that the antics of Wike could better be explained by the proverbial offsprings of the toad and the snake, who were innocently playing together until they had a break and returned to their mothers. The mother toad admonished her child for playing with a dangerous animal while; mother snake also did the same to the child for not swallowing the toad only to complain of hunger. Acting on this advice, the little snake beckoned on the toad for another round of play. The toad replied, what your mother told you, my own mother also told me. The Ogoni cannot be fooled.
Senator Abe thanked the Khana Connected Friends for mobilizing such a large crowd for his re-election bid, assuring that he would never disappoint the Ogoni as their true son.
Earlier in his own speech, Comrade Celestine Akpobari, the Coordinator of Ogoni Solidarity Forum, said; he had not been a partisan person and that as a civil society activist that he supports Ogoni interest and cause.
He reminded the people that he had advocated for Ogoni governor, irrespective of the party.
Akpobari stated that today he is supporting Senator Abe as he saw in him the interest of Ogoni.
He said that Senator Abe was their best bet for the position and that any right thinking Ogoni man should vote for him.
"We need Senator Abe more than he needs us today. He is one of the most popular politicians we have in Nigeria today. He is the only man that has enough credit in his political account that all Ogoni people can draw on. Ogoni people will make the greatest mistake of their life if on the 19th of March; we do not turn out enmasse to elect Senator Abe. He is the only person contesting for Senatorial election from Ogoni extraction", he said.
Speaking further, the activist said that Olaka Nwogu was no match to Senator Abe in terms of choice, pointing out that the name Olaka Nwogu is not an Ogoni name and information he got from Eleme had it that Nwogu could not speak Eleme but Igbo language.
In his speech, Ambassador Marvin Yobana, the African representative in the World Assembly of Youths, said that Senator Abe was a patriotic Ogoni man who had been using his personal money to provide water to many communities in Ogoni and the entire District.
Such a person, he said, should be supported and encouraged.
He said that Ogoni people know what they want and that Magnus Abe was their choice and not Olaka Nwogu.
In his comment, the Coordinator of Khana Connected Friends, Mr. Thomas Bariere Area, said that the group was a child of necessity to help pursue sincerely the interest of Ogoni in the present political dispensation.
He stated that the group had identified Senator Magnus Abe of APC as the interest of Ogoni and urged all Khana people to support him so that the Ogoni would have a strong voice in the Senate and national body politic.
Signed:
PARRY SAROH BENSON
Spokesperson to Senator Magnus Abe
February 22, 2016