N225,000 I paid into the account of Justice Yunusa was not bribe: Tarfa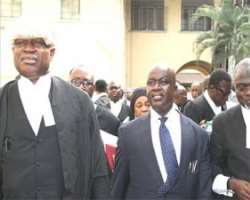 THE embattled Senior Advocate of Nigeria (SAN), Mr. Rickey Tarfa yesterday told a Federal High Court, Lagos that the N225, 000 he transferred to the account of Justice Mohammed Yunusa on January 7, 2014 was not meant to bribe the judge.
Tarfa, speaking through his lead counsel, Bolaji Ayorinde (SAN) at the hearing of the fundamental rights enforcement suit he filed against his arrest and detention by the Economic and Financial Crimes Commission (EFCC), said the money was a donation towards the burial of the judge's father-in-law, the late Alhaji Audi Garba Damasa.
His submission is contained in a 75 paragraph further affidavit deposed on his behalf by John Odubela, Head of Chambers.
"That the applicant did not on January 7, 2014 bribe Justice M.N Yunusa with the sum of N225, 000 or any other sum at all. That it was common knowledge in legal circles that the judge lost his father in law, Alhaji Audi Garba Damasa on December 28, 2013 in Maiduguri and traveled there to attend to the funeral.
"The applicant and some friends of the honourable justice made some donations towards the said funeral rites and to commiserate with the judge since they could not physically go and commiserate with him in Maiduguri where he was and stayed for a while," he swore.
Ayorinde had adopted the substantive application, the supporting affidavit and other exhibits as well as written address and urged the court to grant his prayers. He argued that application has nothing to do with the charge at the Lagos State High Court but the arrest of the applicant without reasonable ground of suspicion.
He contended that the arrest was made without arrest warrant or court order, adding that the suspects that the EFCC wanted to arrest were billed to honour their invitation on February 8 and wondered why they decided to come to arrest them on February 5. He insisted that they are entitled to the reliefs being sought.
But defence counsel, Wahab Shittu prayed the court to dismiss the application or in the alternative stay further proceedings pending the determination of the criminal charge against the applicant at the High Court Lagos. Guardian