Buhari insists Naira will not be devalued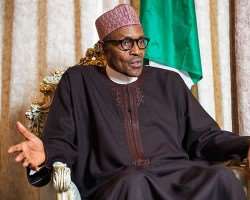 President Muhammadu Buhari has remained adamant in his opposition to the devaluation of the naira, despite the deceleration of the currency at the parallel market.
Naira which sells at N199.5 to the dollar at the official window, has touched N385 to the dollar at the parallel market triggering worry of a dysfunctional economy among pundits.
But Buhari said it would be suicidal to the Nigerian economy for the currency to be devalued when the country could not compete with developed countries which produce to compete among themselves and could afford to devalue their local currencies.
He said the priority of his administration is to ensure national food security and self-sufficiency in basic needs for industrialisation.
In a statement by his Special Adviser on Media and Publicity, Mr. Femi Adesina, the President spoke on Saturday while contributing to a Presidential Panel Roundtable on Investment and Growth Opportunities at the opening of the Africa 2016: Business for Africa, Egypt and the World at Sharm El-Sheikh, Egypt.
Buhari said that Nigeria could not afford to devalue its currency because the country imports everything, including toothpicks.
He said, "Developed countries are competing among themselves and when they devalue they compete better and manufacture and export more.
"But we are not competing and exporting but importing everything including toothpicks. So, why should we devalue our currency?
"We want to be more productive and self-sufficient in food and other basic things such as clothing.
"For our government, we like to encourage local production and efficiency."
Buhari, who has maintained this position for the umpteenth time,  said those who have developed a taste for foreign luxury goods should continue to pay for them rather than put pressure on the government to devalue the naira.
He is however hopefl that Nigeria would get out of its current economic downturn, said another major problem militating against economic revival is the huge resources being deployed in the fight against insurgency and international terrorism.
He, however, commended support from the international community in the administration's fight against terrorism, and cooperation in tracing looted funds stashed in foreign countries.