Woman Dying of Cancer Makes 3 Wishes in Hospital Bed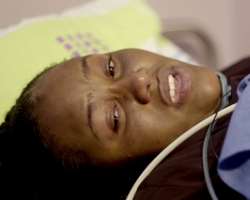 What shall it profit a man to gain the whole world and lose his soul? This goes to explain how a certain multi billionaire father watched his daughter, Nustrat, die without blinking an eye to save her.
The story of Nustrat, is rather a sad one after she got married to a man her father never supported and as the love between her and her husband, Khalid, get stronger little did they know that it will only last for a short period of time.
Nustrat was diagnosed of Cancer and since her loving husband, Khalid, could not afford the hospital bills, she was left to die by her father who was not ready to help and her dying bed, she made three wishes before she passed away in the movie 'Buri Uku A Duniya ( My Three Wish in the world).'
The movie stars the likes of Sani Musa danja, Ubale Ibrahim, Rikadawa, Hadiza Ali Gabon, kabiru Nakano, and introducing, khadijatul Iman Sani danja and Ahmed Ali nuhu.