Message Of Condolence On The Passing Of Boutros Boutros-Ghali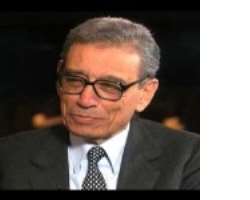 The Secretariat of the All Africa Students Union (AASU) has learnt with sadness the demise of Boutros Boutros-Ghali, the first African and sixth Secretary-General of the United Nations (UN) from January 1992 to December 1996. With this sad occurrence that happened on 16th February, 2016 Africa has lost one its illustrious son.
Though he passed only one term at the head of UN, he will always be remembered as one of hard working and principled Secretary-General who defended the cause of justice, peace and a more just international economic order.
His passing away should serve as an opportunity for African Leaders to pay a befitting tribute to one of the continent's distinguished sons through defending, promoting and upholding the interests and rights of their people.
The Secretariat of AASU would like to avail itself of this opportunity to present its heartfelt condolences to his family, the people and government of Egypt, the United Nations System and all peace loving people.
May his soul rest in peace!
Awaah Fred
(Secretary General)
www.aasuoline.org;[email protected]/[email protected] ; +233(0)243101626