Brand New Single! Akpedodo Do - Queen Esther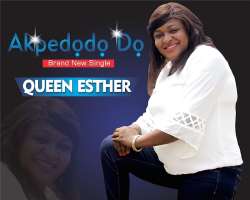 Be the first to listen to 'Akpedodo Do' by Queen Esther! Mixed and Mastered by Bard Bishop, 'Akpedodo Do' which means 'It is what it is, so?' confirms Esther as the Queen of Gospel Music revolution in Nigeria.
This track is full of life as it was inspired by God Almighty. Esther, a dynamic and exceptional gospel music minister with a touch of gold is poised to change the world through her music.
A graduate of English and Literary Studies from University of Calabar, Esther doubles up as the Administrator of Star Breed Foundation School and the President of Queen Esther Center for Widows and Orphans. She is also an entrepreneur and philanthropist. 'Akpedodo Do' is fresh! Be the first to listen! Click https://my.notjustok.com/track/70448/akpedodo-do-queen-esther
Aniekan James Ekah
Publisher, www.wetinhappen.com.ng
+234 806 6255 832
Facebook.com/aniekanekah
*www.wetinhappen.com.ng is Nigeria's #1 Exclusive Information Website*