Checkout Dakore Akande's Outfit You Might Like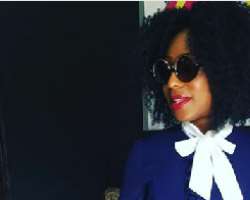 Nollywood actress, Dakore Akande, has really maintained her body well after two kids as she glows as the day goes by.
If after two kids she still looks stunning, imagine how she will look when she has four children. The actress recently stepped out looking dashing with the lovely blue outfit mixed with touch of White.
Age is not telling on this actress at all, as she knows how to combine good diets to get good result towards having good skin. Well, you can give it to having a good marital home and rest of mind.
The actress of recent has been making headlines and all thanks to the fact that she knows how to manage her wardrobe to get the best anytime she steps out for any event or meeting and she has left many fashion designers scrambling to be more creative with their styles.