MNJTF Making Gains In War On Terror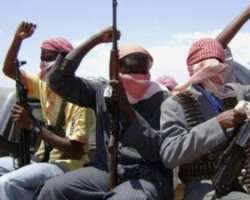 The Commander of the Five Nations Multi National Joint Task Force (MNJTF) Major General Lamidi Adeosun has said that his Command is making tremendous gains in the war on Terror in its area of operation.
Briefing the Press in Maiduguri on Thursday, General Adeosun said, " MNJTF is a body of professionals and by our training, discipline and rule of engagement , we are living to the requirement that no deliberate collateral damage is encoutered during operations but we are making tremendous gains in the war on terror."
He cited the recent joint operation between the Nigerian Army and the Camerounian Forces and the resultant success as an example of such gains made by his Command.
He disclosed that within the last three weeks a team of his soldiers has moved from Ndjamena to Kusuri to Fotocol through Gamboru Ngala to Maiduguri and back on the same route adding that another team also moved through Maiduguri to Baga up to the Chad Republic stressing that the routes are relatively safe.
Answering a question on how soon these routes would be open to the public for use, General Adeosun said, " there is no specific time yet because although clearing of the roads is part of our operation, a lot needs to be done to ensure that the roads are smoth and not only passable."
He expressed appreciation to the Countributing Countries and hopes that more equipment and men would be contributed in the future for more success to be achieved.
Commenting on the Funds said to have been given to the Multi National Joint Task Force ( MNJTF) , General Adeosun said that a lot of protocol is involved as only the African Unoin can access the funds.