New National Chairman of PDP is Boko Haram sponsor: Obasanjo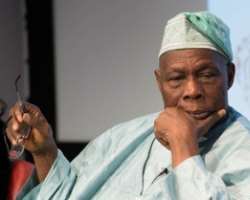 Former President Olusegun Obasanjo has slammed the  Peoples Democratic Party for appointing Senator Alli Modu Sherrif as PDP's new National Chairman.
Obasanjo who was president of Nigeria for eight years under the umbrella of the PDP described the latest action of the party, which ditched in the run up to last year's presidential election, had etched its own death certificate.
PDP which in power from 199 up till last year was defeated at the polls by the All Progressives Congress  on March 28 last year.
Obasanjo, in reaction  to Tuesday's emergence of Senator Alli Modu Sherrif as PDP's new National Chairman, Obasanjo tweeted, "Let us have a minute of silence for PDP. I don't expect anything else than this, not even when Ayo Fayose and Olisa Metuh are the microphone of the party.
 "May the days ahead bring forth a better opposition party for Nigeria, that does not have a Boko Haram sponsor as its National Chairman."
The Ota farmer, who earlier ruled Nigeria as a military dictator, advised the country's youths to be wary of politicians, saying that they must accept themselves irrespective of their political beliefs.
He observed that while youths are busy fighting for PDP and APC, "politicians and leaders are busy inserting figures in the nation's budget."
Obasanjo noted that if the country is to get things right, Nigerian youths, either APC or PDP, must unite against enemies of the masses, as unity is a strong force to win the battle.
PDP  has been in search of self-rediscovery since after suffering an unexpected defeat at the hands of the APC, which many did not give much chance but swept into office on the the crest of change mantra, which enjoyed overwhelming support of Nigerians.