Ali Modu Sheriff As PDP Chairman: A Blessing Or A Curse?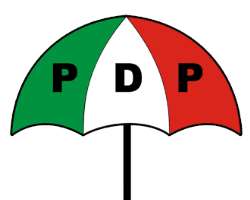 The recent confirmation of Senator Ali Modu Sheriff as the new Chairman of the People's Democratic Party (PDP) has expectedly elicited mixed reactions and divergent views from political actors and observers. In fact, just hours after he was sworn in, there was a plethora of rage mixed with mockery from the camp of the ruling All Progressives Congress (APC).
Such was the image Ali Modu Sheriff also popularly known as SAS has. Although some have attributed this to his alleged romance with the deadly terrorist sect, Boko Haram, the fact of the matter is that when you score an all important winning goal especially at an opportune time, like Arsenal Football Club did recently against Leicester City, your opponent goes into a frenzy of rage, excuses and blame.
Modu Sheriff, based on facts, has all the while been an innocent victim of high wired politics and the "pull-him-down" syndrome of embittered politicians who are jealous that he left APC to join forces with the PDP despite being one of the founding fathers of the ruling party.
As it is in their character, APC chieftains felt highly deflated when Sheriff left them, and as a result, in order to get back at him, they did all they could do to link him with the Boko Haram sect so as to tar his image, malign him and finish him off politically. One is not surprised that this came from the APC. It is their stock-in-trade. That is a party that can beatify the devil as long he is their card carrying member or does their bidding no matter how unholy, and demonise an angel for either disagreeing with them or for leaving them.
It was Stephen Davies, the negotiator commissioned to assist in finding and rescue the Chibok girls, that linked Sheriff with Boko Haram. Meanwhile, it was Sheriff's predecessor, Bala Kachalla, that had appointed the dreaded Mohammed Yusuf as a member of the state's Sharia Law Implementation Committee in 2001. Although Buji Foi who served as Commissioner for Religious Affairs under Sheriff later resigned to join forces with the sect, the fact is that Foi resigned from Sheriff's cabinet out of frustration as SAS was not willing to do the bidding of anyone that would amount to him abdicating his responsibilities as Borno State governor. The best way to get back at SAS, in the estimation of Foi, was to join forces with Boko Haram to render the state ungovernable and ultimately eliminate the governor. This is why the sect once marked the newly appointed PDP chairman and the late president, Shehu Musa Yar'adua among others, for assassination.
Let it also be recalled that Boko Haram made good their threat against Sheriff as they eliminated his brother, Goni Mustapha Sheriff, his brother-in-law, Awana Igala and his political associate, Modu Fannami Gubio. Of course, it was impossible to get at Sheriff owing to his own security coverage as a governor, and since they could not reach him directly, they had to assassinate some of those close to him including his brother. This is in unfortunate conformity with an African proverb that says when a man cannot stand his master strength for strength, he maims his master's favourite goat.
If Sheriff had any hand in Boko Haram, or if he cooperated with them in any way, would they have gone as far as threatening his life and actually carry out that threat by eliminating some of those close to him? Would we say that late Yar'adua also had a link with Boko Haram since they also threatened him? Which group would want to hurt its sponsor?
The issue is even more curious because Mr Stephen Davies who made that ridiculous allegation, had not only linked Sheriff to Boko Haram, he also linked Lt Gen Azubuike Ihejirika (rtd) to the group. This is where his lies fell flat. We all know how pained and furious some northern elders were and still are with Ihejirika over the no-nonsense approach of the former Army Chief in dealing with the sect. In fact, some misguided elders had called for the prosecution of Ihejirika for "genocide". The question therefore is, if Ihejirika was sponsoring Boko Haram, how come he dealt with them so ruthlessly that the real sympathisers and sponsors of the terrorist group are calling for his head?
With the scenario above, it is obvious that Stephen Davies was playing someone's script. While there was no iota of evidence to link Sheriff with Boko Haram, it is ludicrous that the same Davies did not mention Senator Ali Ndume of APC who is alleged to have evidence linking him to Boko Haram activities and has been charged to court accordingly.
Another question is, when did the APC and their followers realise that Modu Sheriff was a sponsor of Boko Haram? When he helped to form the APC by 'donating' his party, the ANPP, of which he was the BoT chairman, and his resources, to the merger and birth of APC, they did not accuse him then. While he was BoT chairman, Ogbonnaya Onu, current Minister of Science and Technology was the party's chairman while the current chairman of APC, John Odigie Oyegun, was also a member of ANPP's BoT. They junketed and traversed our innocent land together perfecting their merger strategies and gave Sheriff one of the highest seats at every occasion. He was more or less their poster boy and dependable ally. This was all happening between 2012 and 2013 when APC was eventually formed. In fact, he was a member of the APC Board of Trustees till he left the party. They did not accuse him of Boko Haram links until he left their party for PDP.
It is quite hypocritical but not unusual to see APC clear Senator Ali Ndume, a man who has been dragged to court for his alleged links with Boko Haram, and gave him their party machinery to campaign and contest for the senatorial seat of his District, but will vilify and demonise a man who has submitted himself for investigation with nothing found linking him to the terrorist group, except politically motivated rumours
That the APC are disturbed about the emergence of Senator Sheriff as the new Acting Chairman of PDP, is a proof of the man's calibre, capability, capacity and clout to rally his party members to not only checkmate the abuses and excesses of the Buhari administration, but also help them (PDP) to regain power come 2019 and emancipate Nigerians from the stranglehold of a dictatorial administration and a rudderless government. It seems with the emergence of Sheriff, APC have suddenly realised that their stay in power will not exceed 2019. If your opponent is ever happy about your choice of personnel and strategy, then you are finished!
The argument that Sheriff emerged Chairman only shortly after joining PDP holds no water. He is not the first to do that and he certainly will not be the last. A former chairman of the party, Prince Vincent Ogbulafor, defected from ANPP and became PDP's chairman. As recently as late 2014, former House of Representatives Speaker, Aminu Tambuwal joined APC and became their governorship candidate straight away; Umana Okon Umana of Akwa Ibom walked wobbly from PDP shortly before the gubernatorial elections and emerged APC's governorship candidate in Akwa Ibom State immediately. The same can be said of Governor Samuel Ortom of Benue State. But when such happens in PDP, the same APC would make it an issue.
Lastly, everyone has realised that if Sheriff's emergence could cause ripples in APC camp, then he must be the right man to lead PDP and Nigerians into this battle. One is sure that if PDP had appointed someone without capacity or clout, APC would have gone to town celebrating.
As for SAS, in order to achieve PDP's goals, he must, as a matter of urgency, kick-start a real rebranding process of the party by involving more of the youths in the party's structures and directorates; he must appreciate and embrace the power of the social media in forming, shaping and reshaping public opinion while also strengthening the use of conventional media by the party without falsehood. The last elections were won and lost in the media, both social and conventional. The lies APC sold then have crumbled right before them. PDP's mistakes of the past must not be repeated. It is time for PDP members and supporters to stop allowing APC dictate the process for them, they must begin to direct the narrative.
In conclusion, it is obvious that the APC are worried over this development because they know that this latest Sheriff seems poised to drive away their own sheriff from Aso Villa soon, whether as chairman or as a leading member.
[email protected] ; Twitter: @stjudendukwe
Disclaimer:

"The views/contents expressed in this article are the sole responsibility of the author(s) and do not necessarily reflect those of The Nigerian Voice. The Nigerian Voice will not be responsible or liable for any inaccurate or incorrect statements contained in this article."