Lynxx Turn's Pastor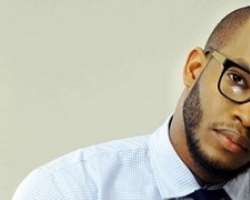 Popular artiste Lynxx has recently poured out his mind about what he has noticed happening around in the society.
He revealed that keeping up with the society has been a way of life currently trending, while he thinks people should live as an individual rather than follow the crowd because failing to do so, would make many miss the opportunity of believing in themselves.
He went on to say, being different is a blessing as it makes one stand out for the better. Adding that worrying about what people say shouldn't be important, rather, what God says should be the ultimate.
"Keeping up with society has become the order of our daily lives in today's world. In this case a lot of people have unfortunately lost their identities, followed the crowd / Trends (whether right or wrong) and everyone just tends to be ok with fitting in. The sad part is we are all born with "Individual" identities and equipped with divine Gifts which a huge percentage of people will miss out on because they never believed in themselves enough to tap into it," he said.
He admonished everyone to fear the person that has power over the spirit over someone that can only hurt the body, because salvation is a sole journey.
Lynxx is showing to the world that despite been an artiste, he is also religious, an aspect of him unknown to many.