Buhari may sack CBN gov, Emefiele 'any moment from now'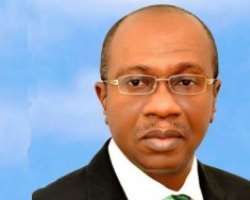 The Governor of Cntral Bank of Nigeria, Godwin Emefiele, may get the boot soon, according  Ripples.
can authoritatively confirm.
In a report, by the news portal as published by www.bodedolu.com, top presidential aides confided on the medium Monday  that the dragnet is drawing closer to Emefiele, who was appointed as head of the nation's apex bank by former President Goodluck Jonathan on June 3, 2014.
Emefiele replaced Mallam Lamido Sanusi, the Emir of Kano , who was controversially suspended and fired by Jonathan for alleged insubordination.
According to the report,  the CBN chief has been in the eye of the storm lately following revelations that the nation's treasury was practically emptied to fund the failed re-election bid of Jonathan in 2015.
Emefiele, investigators alleged, granted government officials unfettered access to the treasury during the electioneering period and even printed new currencies when the vault was drained.
Many people expected President Muhammadu Buhari to have fired the bank's chief following his alleged involvement in the infamous Dansukigate scandal, but a top presidential aide said Buhari decided otherwise, to strike at the best time.
"What people don't know is that the President has made up his mind Emefiele must go. But he only wants to do it at the best time.
"He believes he should get as much information as possible from the CBN chief before dispensing with him. If he just sacks him, it will not benefit the nation."
Another source said the presidential briefing has unveiled many shocking revelations that beat the imagination of Buhari.
"Without going into details, Emefiele has told the President how the treasury was looted. He mentioned names, figures and details.
"Of course, he exonerated himself, saying he was just acting on instructions. But he is a goner as far as the President is concerned."
Matters have not been helped by the down plunge of the nation's currency, the naira, which continues to drop exchanging for N345 to the dollar at the parallel market as at Monday , with the apex bank seemingly helpless with the country's foreign reserve having been plundered.
Though Emefiele's appointment is for a five-year renewable tenure that ends in 2019, it was learnt that Buhari is determined to have a complete economic team to fix the nation's dwindling economic fortunes.