Delta Speaker Restates Two Terms For Okowa....UPU Differs, Says He Must Negotiate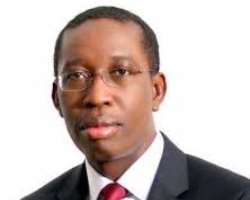 Delta State House of Assembly Speaker, Rt. Hon Monday Igbuya on Wednesday continued his crusade for second term for Governor Ifeanyi Okowa.
But his position runs counter to the views of the Urhobo Progress Union (UPU). The union's President General, Chief Gabriel Ofotokun insisted that the best way to go about the agenda was to negotiate with Urhobo.
"Whoever is going to take over from Dr. Ifeanyi Okowa must be an Urhobo" the union's president general said.
Igbuya who spoke in Asaba urged the UPU leaders not to endorse any candidate in 2019.
"We have come thus far. We have endorsed Dr. Ifeanyi Okowa for 2019. We need your prayers to achieve that agenda" he said.
Receiving UPU interim executive in his office, Igbuya blamed the past executive of the union for the dismay performance of the Urhobo nation in the 2015 governorship polls.
"Some gullible fellows turned the Urhobo nation into a trading port. They commercializeDelta Speaker restates two terms for Okowad the leadership of our ethnic group, thereby destroying the foundation and unity of the Urhobo nation. That is what we are suffering today. That is why the fifth largest group in Nigeria is not recognized anywhere" he said.
Deeply disappointed by the actions by some Urhobo leaders, Igbuya said he was sad over the incarceration of former Delta State governor, Chief James Ibori.
"We have thrown away dignity and unity. As a matter of fact, Urhobo leaders now kill their children publicly. Who kept Ibori in prison? They are Urhobo people. Persecutors of Ibori are not strangers. They are not from Delta North, Delta South and South West. They are our kith and kin. The pillar of the Urhobo political class is incarcerated. How can Urhobo move forward politically? We do not know beyond Asaba and even the Asaba we know, we do not know the doors or machines to open. The man who knows what doors or instrument to touch, we used our hands to cage him. We are crying and shouting that Urhobo should move forward politically. It is very unfortunate" he said.
He condemned the plot to stop a governor of Anioma extraction in 2015.
"Itsekiri is a minority group in the state. In Warri South, Warri South West and Warri North, the Urhobos are there. There are Ijaw people in these local government areas but they produced a governor. Why on earth would anyone say that Delta North with nine local government areas and highest number of wards in the state cannot produce a governor? There is no Urhobo local government that has more than eleven wards. There are local government areas in Delta North that have twelve and fourteen wards. Politics is a game of number. Some of us insisted on equity. If an Itsekiri man can become the governor of Delta State, what would stop somebody from Delta North becoming governor? Urhobo man is very gullible.
Clearly, we knew we were not going to make it. However, some commercial UPU leaders were banning, cursing, swearing and doing all sort of trading. The UPU became factionalized after collecting millions from Abuja. A faction endorsed the APC candidate, while another faction endorsed the Labour Party candidate. How do you expect Urhobo to win? Like the saying goes, divided we fall, united we stand. The Omene led leadership destroyed the chances of Urhobo producing the governor".
Earlier, the UPU President General, Chief Gabriel Ofotokun accused President Muhammadu Buhari of neglecting the Urhobo nation.
"What has President Muhammadu Buhari done for the Urhobo nation? He has done nothing. How do we position Urhobo at the national level? We need to unite and make our position known" he said.
On Okowa's performance, Ofotokun said "Governor Ifeanyi Okowa has tried. He has appointed quite a few of our people in government but he has to do more".
EBIRERI HENRY OVIE
08036977194