AGAIN, REPS POSTPONE VOTING ON CONSTITUTION REVIEW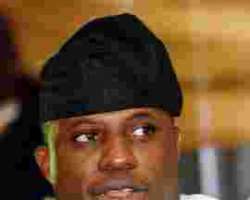 Speaker, House of Representatives, Mr. Dimeji Bankole
The House of Representatives again failed to start voting on its proposed amendments to the 1999 Constitution on Thursday as planned.
The House has deferred the exercise to Tuesday next week.
Rather than commence the voting on Thursday, the Deputy Speaker of the House, Alhaji Usman Nafada, who presided over the session, called for an executive session, the third this week, moments after sitting began.
Our correspondent gathered that many members had complained at the closed-door session that they were unable to use the electronic voting system installed for the exercise.
'They expressed the fear that the exercise might be marred as many of them would not be able to use the system.
'In addition, they felt that they would be embarrassed if they were seen on live television by their constituents fiddling with the electronic gadget,' a source who attended the meeting, confided in our correspondent.
Investigations revealed that a 'technical expert' was later drafted by the leadership of the House to explain to members how to operate the machine.
'They brought an operator who guided members in a training session inside the chambers to make sure that each member could use the equipment properly.
'The training explains why the executive session lasted for close to two hours,' the source added.
It was learnt that the House also expressed the fear that if members had been asked to vote on Thursday, they might not meet the mandatory two-thirds quorum for the exercise.
Two hundred and forty members, representing two-thirds of the 360-member House must vote on each of the proposed recommendations before it can be passed.
However, on Thursday, there were not up to 240 members in the chambers, a reason that could have stalled the voting even if members were able to use the voting machine.
Earlier on Tuesday, the House had also postponed the clause-by-clause consideration of the report on the proposal to Wednesday owing to the fact that only nine members came with their copies of the document to the chambers.
The clause-by-clause consideration precedes voting.
Commenting on the development, Nafada had expressed surprise, saying that it portrayed lawmakers as unserious.
Comments :