Rita Dominic Hungers For A Baby (Photo)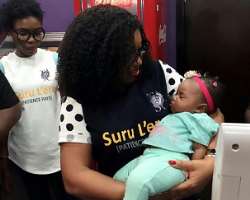 Sultry Nollywood actress, Rita Dominic?, seems to have a certain desire and hunger for a child of her own.
Apparently, the Imo State born actress cum producer who is in her 40's ?wants to also have a feeling of motherhood just like her counterparts in the entertainment industry.
She recently shared a photo of herself and cute baby girl she met at Film House Cinema.
The Surulere movie co-producer, in the caption explained how her heart melted on the site of the baby.
"Oh my heart.... (I'm at) Film House Cinema Surulere to promote Suru'lere movie and met this beautiful baby and her gorgeous parents! (I love)" she wrote.
Rita is regarded as one of the most eligible spinsters in Nollywood and also rumoured to be dating Femi Jacobs.