More Trouble In Psquare Villa, As Peter Kicks Elder Brother Out Of Management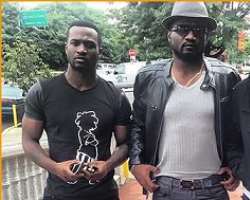 Over time, fans of the P-Square brothers have been wondering what is going on with the brothers, with many speculating breakup which they have continually denied.
But recently, the cat has been let out of the bag as Peter Okoye, has come out to clear on the issues they are having with each other.
Peter explained that only he and his brother Paul are the P-Square brothers as every other person is an attachment on the label.
He explained that he has endured a lot for about four years now and feels it's time they call a spade a spade.
According to him, "P-square Fans I know y'all have been asking a lot of question concerning us. I don't have a problem with Paul but the management. My loyalty for p-square and the fans still remains 100%. P-square is Peter and Paul Okoye People change management and you are not different.

"A manager is been employed by the artiste not the other way round. Truth Be Told. Peter and Paul is P-square and every other person is an attachment. Please who so ever makes any transaction with Northside Entertainment or Jude Okoye on P-square's behalf does so at their own risk. warning. Family business can be pain in the a$$. Please peter and Paul are P-square not with Jude. Thanks. How can you run a Business with no structure?
"I stand here 100% for my brother Paul and Psquare but not with our so called management. And for those that will start saying P-square is breaking up. We are not, Just that the management needs to go."