Boko Haram Kills Six In Adamawa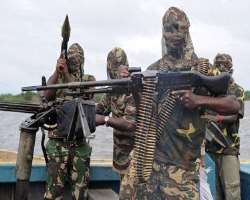 Suspected members of Boko Haram insurgency have been reportedly killed six people including an old woman who was burnt down to ashes in her room while more than 20 houses were set ablaze by the insurgents in Kuda village of Madagali local Government area of Adamawa state.
Eyewitness accounts revealed that the insurgents invaded the village at 9pm on Monday while villagers were preparing go to to bed and started shooting sporadically resulting to killing of five people and several injured by straight bullets.
The eyewitness claimed that the insurgents thronged into the village by foot but they were well - armed adding that after carting away some valuables, they set ablaze more than 20 twenty houses.
Confirming the incident, the Village head of Krichinga, Abubakar Kanuri who said his village is a stone throw to Kuda village revealed that the insurgents came by foots through malakwaya forest a section of the Sambisa forest.
He said the reports he got was that over 30 armed insurgents stormed Kadu village but he said he was yet to know the exert casualty figure but he knew an old woman was burnt to ashes because she couldn't flee her home when insurgents set ablaze her house.
Kanuri said the military in company of the Vigilantes and hunters drafted for fight against insurgency have already pursuing the insurgents who had escaped into a near by bush before Sambisa forest.
He said presently locals of the affected communities have flee to Gulak town and other places to seek refuge.
Kanuri lamented that the security situation is becoming worst day by day following the different styles adopted by the insurgents.
"today they will invade our villages as rustlers, another day they stormed our villages with thronged of vehicles and some time they will use cattle to deceive us to think that they are normal Herdsmen only to start killing people"
"We need help in our areas. Many are beginning to return but with the present security situation, they may not return to these areas "he said
" This crazy boys are still hiding under caves inside Sambisa forest "as he lamented that he wonder when the military would finally overwhelm the insurgents.
Usman one of villagers attacked, said he was trying to recover from the last attack unleashed on them last year by the insurgents, when he lost his properties again to inferno occasioned by the Monday night attack.
He said it is time to hunt for the insurgents but not to wait for them to attack before repelling them away "the best thing is to follow them to their hidings than allow them to continue to kill innocent Nigerians."
Military cannot be reached to comment on the issue at the time of sending this report.