Mikel's away goal keeps Chelsea hope alive as Edinson Cavani's low shot seals 2-1 victory for PSG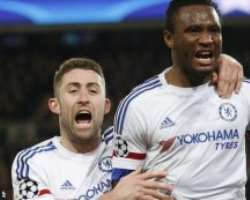 Edinson Cavani's second-half winner gave the French champions the advantage at the halfway stage of a well-contested last-16 tie.
! Chelsea came so close to a brilliantly determined draw. But Edinson Cavani's late winner has given the French champions an advantage that, on balance, was probably deserved. Chelsea will be happy to still be right in this tie, though. The second leg at Stamford Bridge promises to be another classic. It certainly will be if it's anything like this highly entertaining encounter.
In happier times this would probably have been considered a productive result for Chelsea in advance of a return leg under the floodlights at Stamford Bridge. They did, after all, recover from a 3-1 deficit to eliminate these opponents two years ago and managed the same against Napoli en route to winning the competition in 2012. That, however, was the old Chelsea. The new version are languishing 12th in the Premier League and, on that basis, it is not quite so easy to fancy their chances of repairing the damage inflicted by Edinson Cavani's second-half winner.
Chelsea will be grateful for a rare goal from Mikel John Obi that means, for instance, a 1-0 win in the return leg would eliminate the French champions. Yet it is probably more realistic to say Paris St-Germain have the edge bearing in mind they put Chelsea out of the competition last season after drawing 1-1 at Park des Princes and despite Zlatan Ibrahimovic's early red card in London.
It is a close-run thing, though, and that shows the level of effort Chelsea put in on a night when they were missing their two first-choice centre-halves and facing a team who attacked from all angles. John Terry's absence through injury deprived Chelsea of a reassuring presence but for the most part Gary Cahill and Branislav Ivanovic reminded us why they have been part of some of the club's great nights. Chelsea had to give everything in the face of some prolonged pressure and played with enough competitive courage to leave the tie finely balanced.
They can also be encouraged by those moments when they exposed flaws in PSG's all-Brazilian back four, though it would be difficult to argue Laurent Blanc's team did not deserve to win. They pinned Chelsea back at times and moved the ball around with the confidence that should be expected of a team 24 points clear at the top of their domestic league. Ángel Di María was full of deft little touches, barely recognisable from his anaemic spell at Manchester United, and PSG began the game so menacingly it could easily have spiralled into a long, painful ordeal for their opponents.
Instead, Guus Hiddink will look back on the headed chance for Diego Costa during Chelsea's first passage of controlled play in the opening half. His team might have been under the cosh but they would have taken the lead if Kevin Trapp, the home goalkeeper, had not turned the ball on to the crossbar. Costa also had a chance early in the second half only for Trapp to deny him again. Costa played well, but if Chelsea are to progress they might need to be more ruthless next time round.
They might also need some of the good fortune that Ibrahimovic enjoyed when Mikel's trip on Lucas Moura gave the Swede the opportunity to place the ball a few yards outside the penalty area and line up his free-kick.
These are not the moments for a player in the defensive wall to turn his back and Mikel should be far too experienced to leave himself and the team vulnerable in such a way. Ibrahimovic's shot skimmed off the Nigerian and the ball was flying at such a speed the deflection gave Thibaut Courtois no chance of correcting his position to make the save.
Mikel had committed one of the sport's cardinal sins but he did at least make amends. He was an unlikely scorer, this being only his sixth goal in 10 years with Chelsea, but he took his chance well after the ball landed at his feet via Willian's corner and a slight yet crucial touch from Costa at the near post. At first Mikel looked surprised to be in so much space, but his shot beat Trapp from six yards and that was a jubilant way for Chelsea to end the first half.
Once they had come through the early blizzard of PSG attacks, Hiddink's men were certainly not just present to defend. Willian showed his ability to run with the ball, breaking out of his own half at speed and frequently stretching opponents, and there were encouraging spells when Eden Hazard and Pedro moved inside to find the spaces behind Costa.
Yet the PSG pressure accelerated again around the hour mark and that was when Cesc Fàbregas and Mikel started to be overrun in midfield, and Chelsea missed the suspended Nemanja Matic. PSG hit them with a concerted wave of high-speed attacking, with Di María prominently involved and an array of midfield runners looking to get behind the visitors' defensive line.
Courtois tipped over a long-range effort from Di María and saved again when the equally proficient Lucas had the next effort. At one point Cahill and Ivanovic could both be seen desperately throwing themselves into the way of a goalbound shot from Blaise Matuidi. Chelsea had to play with great resilience because, just like it had been in the opening 15 minutes, the pressure was fierce.
Cavani, a substitute, was brought on to operate on the left but it was a diagonal run towards the other side of the penalty area that created the space for his goal. Di María clipped the ball into the Uruguayan's path and his shot went beneath Courtois to end Chelsea's 12-match unbeaten run under Hiddink and leave his team with a considerable challenge when they renew acquaintances on 9 March.
Source: The Guardian Uk