Naira slides to N345 to the dollar at parallel market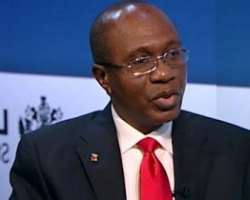 Nigeria's currency the naira has continued on its downward slide at the parallel market, where it exchanges at  N345 for a dollar, close to double the official exchange rate of N197.50 to the dollar.
The currency has fallen into a deep crisis following the fall in crude oil prices, a commodity that is the accounts for more than 80 per cent of Nigeria's foreign exchange earnings.
President Muhammadu Buhari has expressed unwillingness to devalue the currency, which has created room for high arbitrage between the two exchange rates regime.
On Friday, naira had closed N340 to the dollar, even as the official rate remained at 197.50 and the same at the close of trading on Monday.
Monetary experts believe that the continued depreciation of the naira against the dollar and other major currencies at the parallel market is as a result of rising demand for forex by importers who have debt obligations overseas.
But some forex dealers hinge the development  in the past few days on  speculative trading on the currency.
According to them,  many people want to hold the dollar for fear that the naira might depreciate further.
The  Acting President of the Association of Bureau De Change Operators of Nigeria, Alhaji Aminu Gwadabe, alleged that there were high-level leakages in the system, causing the pressure, besides the legitimate demand.
"It is still not about devaluation because even if we devalue to N500, the pressure will still be there, going by the way things are now.
"It is high time we started asking where the millions of dollar intervention goes. The system is such that even importers will get the dollar, but no one would know if they actually import the items.
"For me, the government should think about putting mechanism in place to ensure that whatever everyone demands the dollar for, is actually imported. For me, I still believe there is high-level round-tripping around.
The supply side of the market should be addressed by allowing oil companies and banks to sell dollar to bureau de change operators as an immediate measure to reduce pressure on the naira," Gwadabe said.
The latest pressure has been attributed to speculations that the Central Bank of Nigeria would soon include overseas' school and medical bills into the prohibition list, causing a panic buy to hedge against scarcity.
Already, international price of crude oil has remained below $30 a barrel, while Nigeria's foreign exchange reserves has fallen to $27.84 billion.